What in the world happened at last night's Oscars?
After a couple of months of all the La La Land buzz, crying our eyes out with Manchester by The Sea and feeling heart warmed with Moonlight. We sat down with our popcorns ready, to watch the 2017 Academy Awards.  But at the end, we were all sitting there, in the same spot, confused and looking like Wynona Ryder at the SAG awards.
Here are our thoughts of last night's Oscars:
10. A shocking beginning:
Of course, we had to open with a musical, I mean who saw that one coming? A musical? After three months of hearing and dancing to la la land? Wow, big shocker Justin we never saw that one coming. It was a great performance tho and that song, man, that's catchy. So far, so good.
9. We're off from a good start
I was really rooting for moonlight during this award season. I actually think that this year was a tough competition, the Academy is trying to make up for all the #OscarsSoWhite drama and boom we have a mixture of really marked and categorized movies. The all popular candidate, La La Land, the refugee story Lion, the American drama with Manchester by The Sea and of course, all of the racial- themed movies: Fences, Moonlight, Loving.
However, the award for best-supporting actor was pretty clear, Mahershala Alí gave an outstanding performance and this Oscar was well deserved.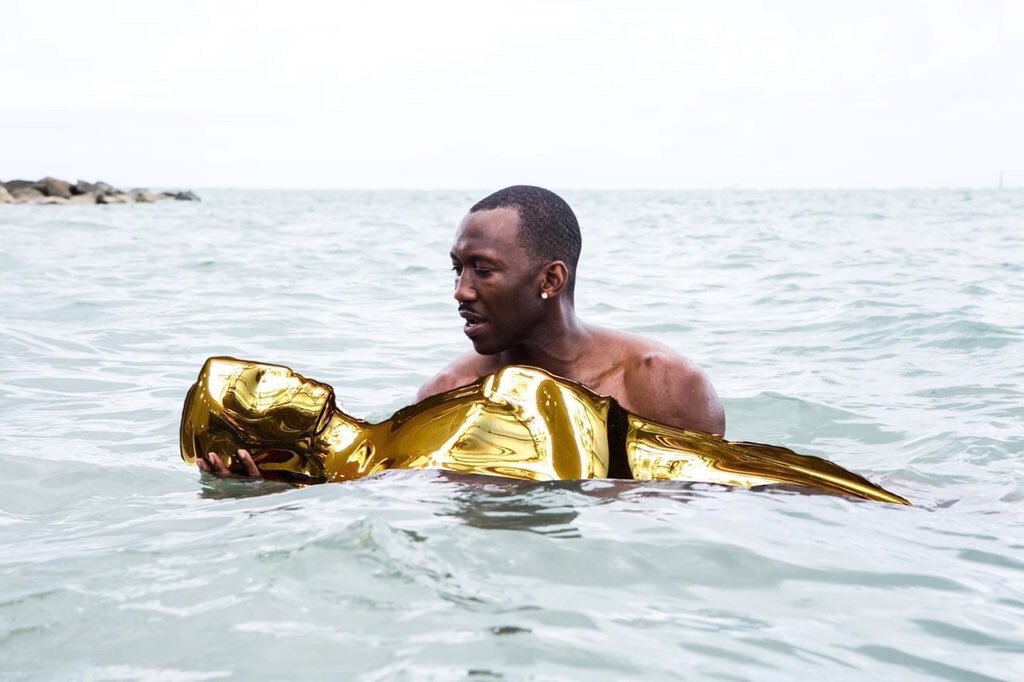 8. Suicide WHAT?
Suicide Squad won an Oscar, no for real, with the golden statue and everything. The (really disappointing) film won the award for best makeup, against favorite Star Trek. I read a tweet that said: "Suicide Squad and Leonardo Dicaprio have the same amount of Oscars." Isn't that disturbing?
7. Our dreams of flying food came true:
The Oscars are all about celebrating outstanding performances and celebrity glamor. But in the past few years, hosts of the show have thought about their guests' needs by providing them with vital food. Who can forget Ellen's call for pizza?
Host Jimmy Kimmel kept his guests fed with flying food that fell from the sky, although some artists were fighting for those twizzlers and ginger cookies.
6. Viola Davis delivered a pretty strong speech
As expected, the amazing Viola Davis won an Oscar for Best Supporting Actress for her role in the nominated film, Fences. Davis' speech was all about female and culture empowerment, as always, she spoke truthfully and determined for what she believes in, receiving a standing ovation from the public.
5. A real life Moana appeared on stage:
Auli'i Cravalho, the Disney star that voices the animated character Moana, performed on the Oscars' stage the main song of the movie 'How Far I'll Go." Cravalho gave the audience a beautiful performance with that gifted voice, however, she had some troubles when one of the backup dancers gave her head a little bump. That little incident didn't seem to stop the singer from reaching some insane vocals.
4. A couple of tourists showed up in the middle of the show:
Host Jimmy Kimmel decided to give a little gift to a couple of tourists in L.A, by tricking them into going in the theater for a "tour." Giving them the time of their lives and generating some really good reaction memes. Kimmel joked with the celebrities as he asked them for gifts, Jennifer Aniston ended up handing her sunglasses to a very lucky lady.
3. Casey Affleck won for acting as Casey Affleck:
The youngest of the Affleck clan was nominated for Best Actor thanks to his performance in Manchester by the Sea. Even though Affleck's performance shows a distant and secluded man, fighting to gain his place into society, I couldn't stop thinking he was acting as himself during the whole movie.
Affleck's strongest competition was Ryan Gosling for La La Land and Denzel's Washington performance in Fences. Casey's win wasn't that shocking, we all knew he was taking that award.
 2. Emma Stone and the red envelope
The oscar for best actress went to Emma Stone after her La La Land performance, honestly, it wasn't my favorite choice, I was all up for Huppert or Portman. But whatever, Emma is pretty cool and she looked stunning through the whole movie, she was very humble during her speech as well.
However, her red envelope generated a chaos on this year's Oscars.
1.THAT PLOT TWIST THO!
Emma Stone wins best actress for La La Land, Bonnie and Clyde come up to stage to announce the last award of the night. Everyone's anxious, who is going to take the big price home? Will it be Fences, Moonlight or La La Land? Clyde begins to joke with the envelope, but wait. What is that? Does he seem unsure of what he is reading? Bonnie jokes with him, he gives her the envelope and full of joy she announces: The Oscar for best picture goes too.. La La Land! ( big shocker) everyone screams and jumps up to stage.  I begin to gather my stuff, i clean the old popcorn off the couch, but something's off
The producers are giving the speech a lot of movement is happening in the back. "We lost by the way," says one of them. Another La La Land member grabs the mic and says " Wait, Moonlight YOU GUYS WON," This is not a joke" and BAM! as something out of the Miss Universe, he shows the envelope and what does it say? MOONLIGHT the card says MOONLIGHT! OH, MY GOD.
They made a mistake, the Oscars made a mistake giving us the most amazing plot twist in Oscars' history. Moonlight won best picture, Barry Jenkins and the whole cast couldn't believe it. Just as the rest of the world…
A well deserved Oscar was given to the cast of Moonlight and we were all sitting there just thinking… how did this happen? I, personally, busted into joy as I screamed and poured my beer away. It was definitely worth the wait.