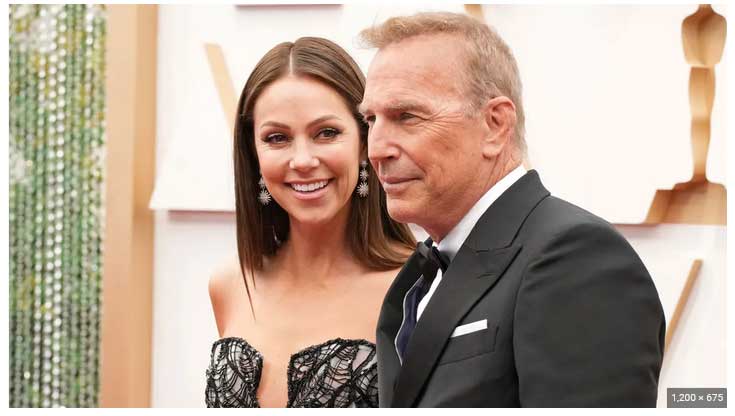 After claiming that his estranged wife, Christine Baumgartner, is trying to rip him off amidst a messy divorce scandal that is still playing out, actor Kevin Costner said he cannot afford the $248,000 monthly child support being requested by his soon-to-be ex-wife.
He went further to reveal that Christine spent $188,500 per month on plastic surgery last year and is still looking forward to doing the same with his money.
On May 1, Christine filed for divorce after 18 years of marriage with Kevin. They have three children together – Cayden, 16; Hayes, 14; and Grace, 13. In filing for child support, Christine is requesting Kevin to pay her $248,000 every month so that the three children could continue to live the opulent lifestyle they are accustomed to.
She claims that her former husband made $19 million in 2022 from featuring in Yellowstone and that he is worth $400 million.
While insisting that the guideline support is $123,620 per month, Kevin alleged that his former wife is requesting $248,000 per month so that she can continue to spend $188,500 per month on plastic surgery and not on the children's welfare as she claims. He said Christine wants to continue the lavish lifestyle of vacationing on private jets, spa treatments, private trainers, golf memberships, jewelry purchases, and expensive gifts to friends and family.
"Christine's list of the minor children's 'needs' for purposes of child support is inflated and grossly inaccurate," wrote Kevin's attorney, Laura Wasser. "Christine fails to meet her burden to establish that child support above guideline is necessary to meet the children's reasonable needs. The plastic surgery expenses of $188,500/month belong to Christine – not the children."
The actor stated that there is no way he can pay the $248,000 being requested monthly by his estranged wife without liquidating his assets – since he has his personal living and business expenses too to cater to. He made it clear that he is no longer under contract for Yellowstone and his payment this year will be substantially lesser than what it was in 2022.
He also added that while his housing properties are entirely his own, he used them for lines of credit or loans that total almost $30 million. Meanwhile, although their prenup agreement stipulated that Christine should move out of their matrimonial home within 30 days of any divorce proceeding; the former handbag designer said she will only move out by August 31.
But on Friday, TMZ reported that Christine left town on Thursday after she was seen flying out of LAX. She was dropped off at the airport by a car service and holding a cup of coffee and hauling some luggage. She had two of her children with her.