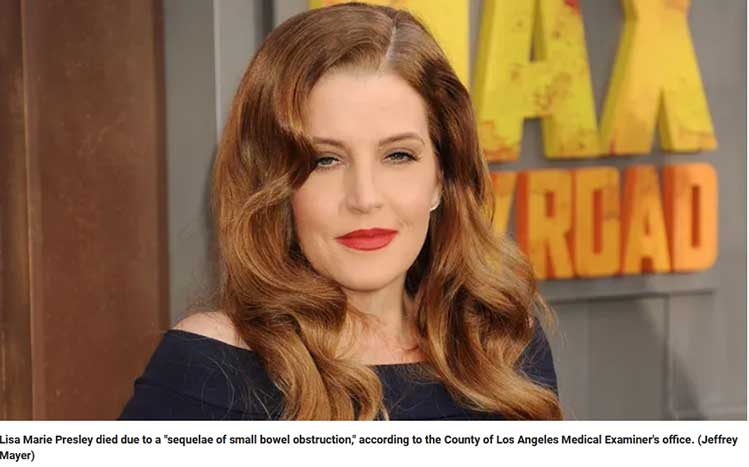 The medical examiner in Los Angeles County has revealed that Lisa Marie Presley, who died at 54 on January 12, died of "small bowel obstruction" and "other significant conditions." The authorities ruled on Friday that the only daughter of the late R&B superstar Elvis Presley died of "natural causes."
According to the authorities, Lisa Marie underwent bariatric surgery many years ago, and the "sequale of small bowel obstruction" she had may have resulted from complications of the surgery. Medical experts said complications of bariatric surgery often result in bowel obstruction, which could be fatal if not treated immediately.
Family members reported that Lisa Marie complained of stomach pain on the morning of her death at her home in Calabasas, California. The police were called in when there was a report that a female adult was not breathing, and the fire department moved her to the hospital after aids did not resuscitate her. She was later confirmed dead.
Lisa Marie was survived by daughter Riley Keough, 33, half-brother Navarone Garibaldi, and mother Priscilla Presley, 77. Priscilla was formerly married to Marco Garibaldi for 20 years and had Navarone before marrying Elvis. In May, the family reached a settlement to make Riley the beneficiary of Lisa Marie's estate. Priscilla said the settlement did not arise from a lawsuit.
"My family has resolved all confusion as it relates to our plea to the court and request for document interpretation after my daughter Lisa Marie's untimely passing," Priscilla stated. "Although the media identified such a plea as a lawsuit, I want to make clear that there was never any lawsuit filed against my beloved granddaughter. As a family, we are pleased that we resolved this together."
Lisa Marie also had a son, Benjamin Keough, who died in 2020 by suicide. Lisa had in 2016 allegedly removed her business manager and mother as beneficiaries of her estate, replacing them with both Benjamin and Riley. But following Benjamin's and Lisa Marie's deaths, Priscilla fought to make Riley the sole beneficiary.
Following her divorce from Keough, Lisa Marie married Michael Lockwood for 11 years before the marriage hit the rocks in 2021. She and Lockwood shared twins Harper and Finley. At her death, Lisa Marie was buried at her father's Graceland family estate in Memphis, Tennessee, next to her father and son.