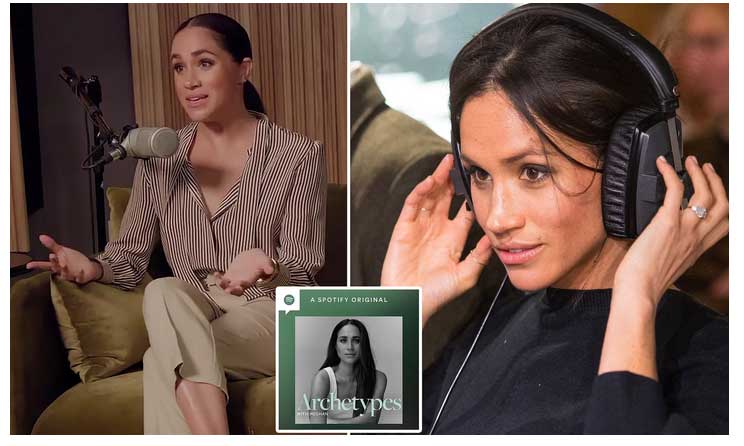 Spotify has ended a $20 million podcast deal with Meghan Markle, the Duchess of Sussex. The podcast, Archetypes, was not renewed for season two because it likely did not meet the productivity threshold set by Spotify. It is also likely that Meghan Markle will not get the full $20 million agreed upon due to this productivity shortage.
Prince Harry and his wife signed the Archetypes podcast deal with Spotify in August 2020 after they moved permanently to the United States. Since the duke and duchess abandoned their royal privileges in the UK and relocated to the US, they have been working to leverage their global fame to earn a living independently through various gigs.
In 2020, the royal couple signed a deal worth $100 with Netflix for a six-part docuseries titled "Harry and Meghan". In January, Harry published a 400-page memoir titled "Spare" in collaboration with Penguin Books and earned millions of dollars from the effort. The couple had also been working on TV gigs, movie projects, brand partnerships, and other business collaborations to make money for themselves.
Apart from the fact that the Archetypes did not meet Spotify's productivity criteria, the streaming giant may have ended its deal with Markle in furtherance of its recent move last week to cut 200 jobs in its podcast division. The video and audio streaming platform said it was a "strategic alignment" that needed to be done to cut costs and turn things around.
"I loved digging my hands into the process, sitting up late at night in bed, working on the writing and creative," Markle said last year. "And I loved digging deep into a meaningful conversation with my diverse and inspiring guests, laughing and learning with them. It has been such a labor of love."
Archewell Audio, the royal couple's podcast company which was producing Archetypes released a joint statement with Spotify that they have "mutually agreed to part ways and are proud of the series we made together." A spokeswoman for Archewell Productions revealed in another update that "Meghan is continuing to develop more content for the Archetypes audience on another platform."
Archetypes covered topics that affected women in a men-dominated world. The podcast featured Serena Williams, Mariah Carey, Mindy Kaling, Paris Hilton, Trevor Noah, Andy Cohen, and Judd Apatow among other prominent guests in about 12 episodes. Each podcast lasted for about one hour.