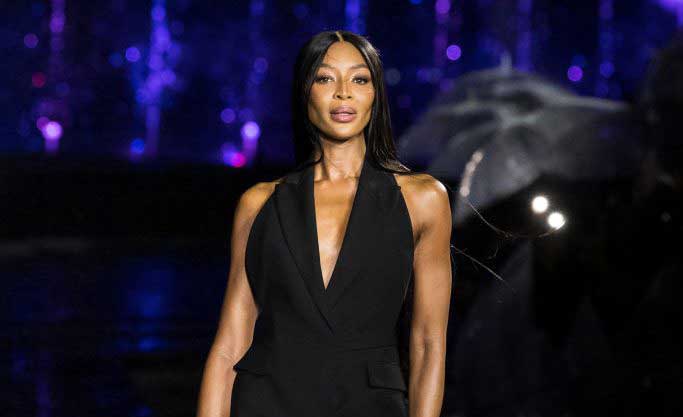 Supermodel Naomi Campbell, 53, became a proud mother on Thursday. The English model revealed on social media that she just welcomed a baby boy. She had her first child, a girl, in 2021 when she was 50. She showed a photo of the newborn covered in a white beanie and matching outfit.
"My little darling, know that you are cherished beyond measure and surrounded by love from the moment you graced us with your presence," Campbell wrote in the caption. "A True Gift from God, blessed! Welcome Babyboy. It's never too late to become a mother."
Campbell has always kept her private life away from the media. Little is known about her family. While she had always maintained that she looked forward to having a baby one day, she did not reveal the name and face of her first baby whom she clasped to her chest on the cover of British Vogue in March 2022 she was only nine months old.
"I always knew that one day I would be a mother, but it's the biggest joy I could ever imagine," she said in an interview last year. "I'm lucky to have her and I know that. Everything I do, I do for her—that's it. It's so completely selfless, isn't it?"
No one knows if she had fertility treatment before having her babies or if she had them through surrogacy, but she did confide that her daughter was not adopted. She said she confided in a few people that she was pregnant with her first child until the baby was delivered.
"I can count on one hand the number of people who knew that I was having her," she said. "But she is the biggest blessing I could ever imagine. It's the best thing I've ever done."
Campbell said she had been urging her older friends to have babies because there is a delight that comes with the process. "I'm telling them all, do it! Don't hesitate," she said. When asked if she would want to have more babies, her response was, "Why not?"
She attended the Met Gala and Cannes Film Festival in May and in early June attended Pharrell Williams' debut menswear collection for Louis Vuitton. Hundreds of celebrities such as actress Zoe Saldana and designer Marc Jacobs have been congratulating her on social media.