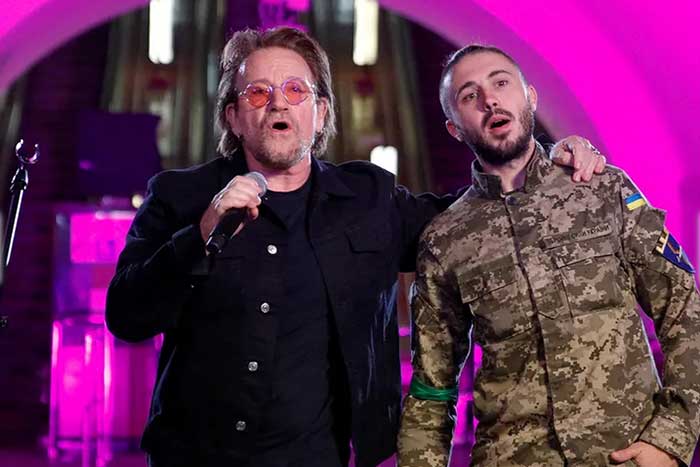 Bono of U2 fame and guitarist The Edge gave a surprise concert in the Ukrainian capital of Kyiv on Sunday while fighting raged on in the eastern part of the country. Bono and his guitarist played at the metro station, which was converted into a bomb shelter at the invitation of Ukraine's President Volodymyr Zelenskyy.
Bono said the president invited him to perform in Ukraine as a show of support for the Ukrainian people, who are fighting a Russian invasion. He said he and The Edge identify with Ukrainians and prayed for peace to return to the country. The 61-year-old singer sang some of U2's classic songs such as "Sunday Bloody Sunday," "Desire," and "With or Without You."
During the 40-minute subway concert, in which more than 100 people were gathered, Bono invited a Ukrainian soldier to render Ben E. King's "Stand by Me" with him. The short rendition was changed to "Stand by Ukraine." Just last month, the former U2 singer released his song "Walk" which addresses the crisis in Ukraine.
"The people in Ukraine are not just fighting for your own freedom, you are fighting for all of us who love freedom," Bono told his audience. "We pray that you will enjoy some of that peace soon. This evening, the 8th of May, shows will ring out in the Ukraine sky, but you'll be free at last. They can take your lives, but they can never take your pride."
Although he will meet with President Zelenskky before going back to Ireland, Bono and The Edge visited some of the areas affected most by the Russian invasion. He visited a mass grave on the grounds of St. Andrews Church in Bucha, and read a poem close to the statue of Ukrainian poet Taras Shevchenko in the heavily-shelled Borodyanka.
While the singer performed at the Khreshchatyk metro station, anti-aircraft sirens could be heard in the background as the country faced off with Russia. In his long career, Bono has been known to campaign against social injustices, poverty, HIV/AIDS, and political aggression in many countries. His real name is Paul David Hewson and The Edge's real name is David Howell Evans.