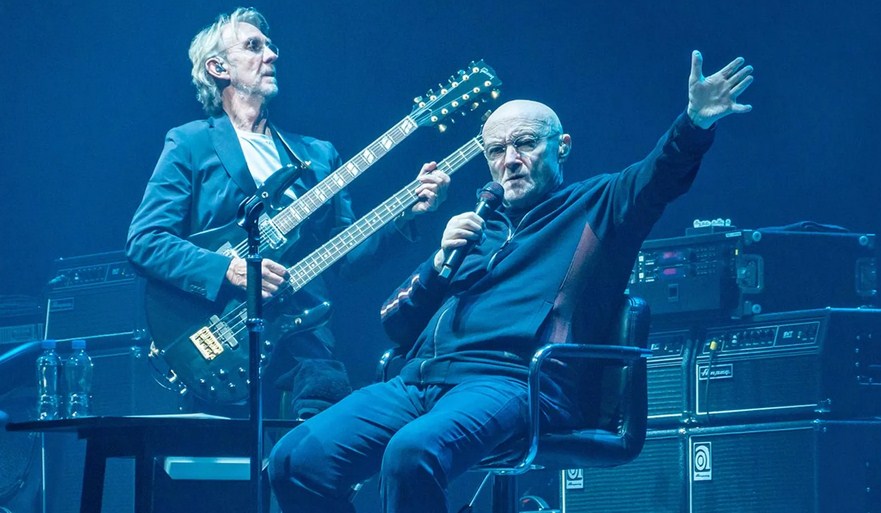 In their last "The Last Domino? Tour" as a group, Genesis held its final concert at the O2 Arena in London on Saturday. Lead vocalist Phil Collins, 71, and keyboardist Tony Banks as well as guitarist Mike Rutherford reunited for the band's last performance together after a 14-year hiatus.
Collins, who sat throughout the performance and suffered from failing health, joked that he needed to acquire "a real job" after the band's collapse. In 2007, Collins suffered a dislocation of his neck vertebrae and developed difficulty using his hands. He had difficulty drumming and could barely hold drumsticks, with his son Nic standing in for him at shows when necessary.
He had back surgery in 2015 after which he began to use a cane to walk. The pains he suffered from surgery and other debilitating health issues made it hard for him to practice singing, and he said he would have preferred to stand during his recent tours if his health permitted.
"I don't do anything at all," he stated. "I don't practice singing at home, not at all. Rehearsing is the practice. Of course, my health does change things, doing the show seated changes things. But I actually found on my recent solo tours, it didn't get in the way; the audience was still listening and responding. It's not the way I would have written it, but it's the way that it is."
The band Genesis was established in 1967 with Peter Gabriel becoming the lead vocalist in the 1970s. The group sold more than 100 million records and became a major hit back then. Collins was the main drummer and backing vocalist in 1970 but went on to become the lead vocalist in 1975 after Gabriel left to begin a solo career.
Apart from former members Banks and Rutherford joining Collins for the group's final tours, former members Daryl Stuermer, Daniel Pearce, and Patrick Smyth also joined the band for its final concerts. The band recently toured the US, the UK, and Europe. Rumors had it that Gabriel was in the audience when the group had their last show at O2 Arena, but former guitarist Steve Hackett was absent.