Get ready for the summer track because it's already here. Camila Cabello, Pitbull, and J Balvin teamed up to deliver a catchy and tropical song. The trio released the official video on Friday.
The song is part of the upcoming movie Fate of the Furious. The trio released the Spanish version of the song and soon they will debut the English version.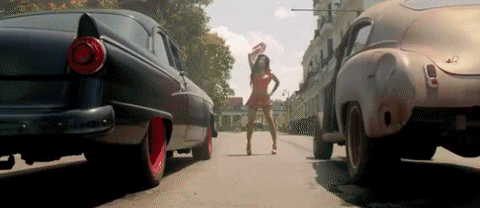 Hey Ma.
In the video, you can see the trio having fun in the Miami streets while celebrating the Cuban culture, you can also see some scenes of The Fate of the Furious. There's a lot of party and dancing, get ready to dance! It already has 2 million views.
Catchy tropical tune.
Pitbull, Camila Cabello, and J Balvin came up with a song to put the latin tune in the upcoming The Fate of the Furious movie. Singing in Spanish Balvin and Camila take chorus duties in between solo verses from all members of the trio.
The English version of the song will debut on April 14 when the official album of The Fate of the Furious drops. The catchy song will definitely be a summer hit and it's already at Number Four on the charts.
Colorful lively video.
The video was filmed in Miami and follows the trio in the city. It's pretty much like the movies, awesome cars, lots of parties and women dancing.
The video represents the Cuban culture as the movie takes part in Cuba. Camila and Balvin wear colorful and tropical clothes while Pitbull keeps it real with his classy style.
The Fate of the Furious.
As we get closer to the expected premiere of the movie excitement grows. This time the family tries to rescue one of their own because if we had learned something is that family's first. This time to the usual cast Tyrese, Michelle Rodriguez, Ludacris, The Rock, Vin Diesel we add the names of Kurt Russell, Helen Mirren, Charlize Theron and of course, Jason Statham.
The Fate of the Furious premieres on April 14th the same day its official soundtrack album. The soundtrack features Jeremih, Young Thug, G-Eazy, Kehlani, Migos and Lil Yachty.
Flying solo.
The former Fifth Harmony Camila Cabello is now pursuing her solo career. Her collaboration in The Fate of the Furious soundtrack was announced previously to she officially leaving the group.
Since December Cabello has been promoting her solo singles. Besides this collaboration with two latin giants, she released Love Incredible in which she teamed with Cashmere Cat. Camila is allegedly working on her solo album and is expected for Summer though no release date has been announced.
Source: Billboard