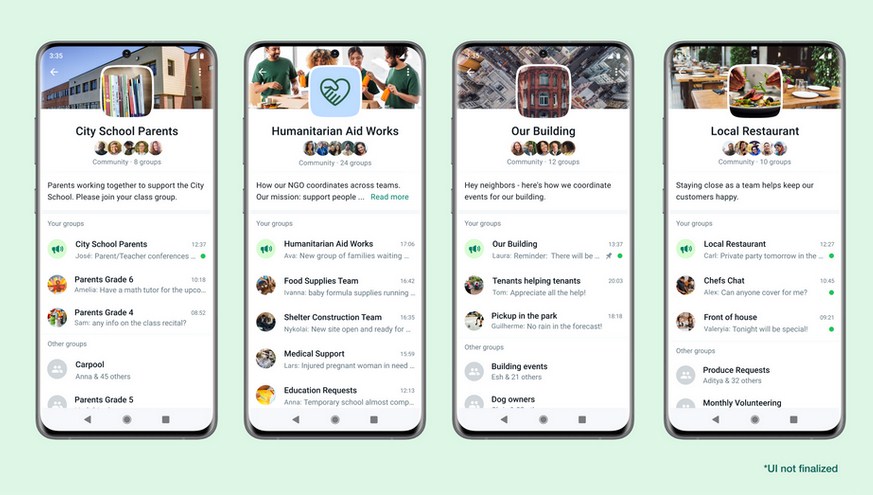 WhatsApp has announced that its new Communities feature will roll out in the next few weeks. Communities will serve as a group of groups messaging system for NGOs, schools, local clubs, and community organizations. It will facilitate the transmission of messages across all the merged groups and give admins greater controls to delete or manage the groups.
Meta CEO Mark Zuckerberg last year revealed that Communities would be coming to WhatsApp when he stated that people incline towards online interactions through private messaging more than ever before.
"It's been clear for a while that the way we communicate online is changing," Zuckerberg disclosed. "Most of us use social networks and feeds to discover interesting content and stay updated. But for a deeper level of interaction, messaging has become the center of our digital lives. It's more intimate and private, and with encryption, it's more secure too."
Confirming that Communities is now in testing and awaiting rollout, WhatsApp officials said the feature will be in the form of a tab in the app – just like Status and Calls. Given that participants in WhatsApp groups are limited to 256, Communities will have more participants with end-to-end encryption security that makes chats and business transactions safer.
WhatsApp is also going to experience some innovations as well. Admins will be able to delete unsavory messages sent by any group participants, and users will be able to share files that are up to 2 GB large. Participants will also be able to initiate conference calls with a total of 32 persons within a group, and users will be able to access smileys and emojis to make chats more meaningful and emotional for participants.
Communities users will be able to determine who can add them to group chats, report abuse, and block accounts. It will equally be possible for users to silently leave any groups without necessarily getting other users notified about the exit. While Communities has not launched on WhatsApp yet, and the timeline for rollout remains unknown, the update is in beta-test and some functionalities are already in operation on a limited, select basis.