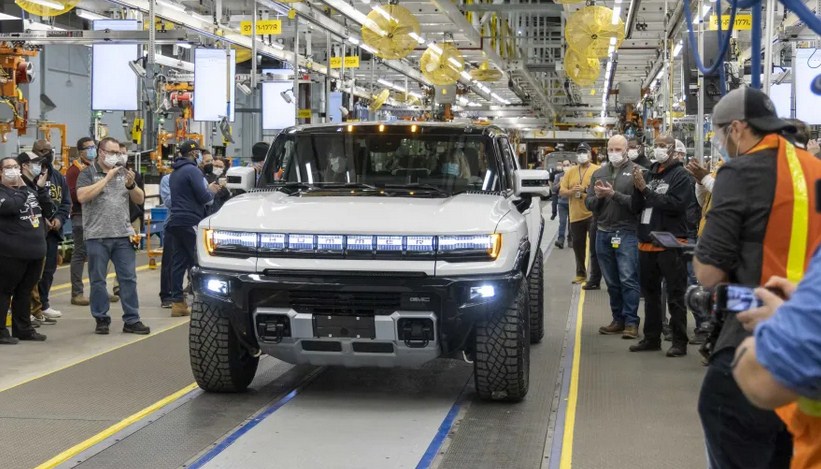 General Motors has begun to ship its newest GMC Hummer EV pickup truck to customers at the price of $113,000. The new vehicle utilizes GM's Ultium battery and drivetrain technology which were all developed in-house. Upcoming GM EV trucks will also utilize the Ultium platform all through to 2025 at possibly reduced prices.
"The first 2022 GMC HUMMER EV Pickups have been produced at Factory ZERO, and customer deliveries will now begin," said GM President Mark Reuss. "The revolutionary GMC super-truck represents the first of many Ultium-based consumer vehicles to be produced as part of General Motors' vision for an all-electric future."
In October 2020, GM launched the GMC Hummer EV which was the Detroit automaker's first all-electric super-truck at the starting price of $80,000. The latest GMC Hummer EV pickup truck is the company's second pickup vehicle to launch with tons of features that delight customers. GM said it is investing nearly $30 billion into developing and producing EVs that include the pickup and SUV variants for many years to come.
GM's first Hummer EV auctioned for $2.5 million and the fund was donated to Tunnel to Towers Foundation which was set up to honor the memory of Stephen Siller. Siller was the first responder to the devastation of September 11. Other customers paid $110,000 for this first edition and the vehicle has about 1,000 horsepower and 11,500 lb-ft of torque.
Reuss said the delivery of the GMC Hummer EV Pickup truck to customers was perfectly-timed and that several pieces reserved by customers sold out very fast. He said lower-priced editions of the vehicle will be sold to customers later, but those who are buying the latest edition are paying about $113,000 a piece for it. He said about 1,200 pieces will have to be sold before the company moves to produce cheaper variants.
"We brought this truck to market with speed and agility and brought GM another step closer to an all-electric future," he stated. "With our Ultium Platform as the foundation for a broad range of applications, the GMC HUMMER EV offers our customers the ultimate in capability and performance."
In a related event, Dan Ammann, the CEO of GM's majority-owned autonomous vehicle unit Cruise, resigned on Thursday. The news of Ammann's departure caused the stocks of GM to drop by 7% on Friday, and the shares closed at $55.16 per share. The company is yet to respond to queries over the reasons and impacts of Amman's departure from the auto organization.