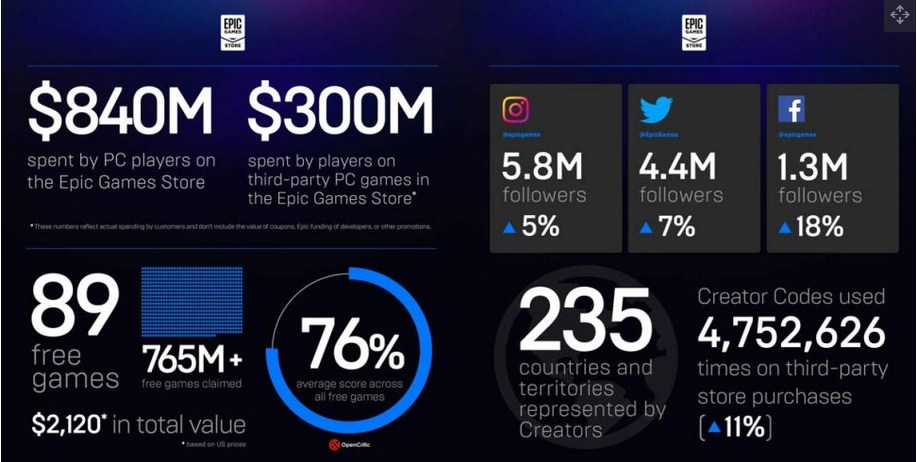 Epic Games Store (EGS) has reportedly given away 765 million games worth $18 billion in 2021. Each of the games has an average price of $23.82. The gaming store also reported earning $840 million last year from game sales – meaning its $840 million earning is about 5% of its claimed $18 billion giveaway. Analysts, however, said with freebies, gamers are always able to add paid titles to their free collections.
EGS also boasted of impressive statistics for 2021, saying it now has more than 194 million PC users and 31.1 million daily active users.
"There are now over 194 million Epic Games Store PC users, an increase of 34M from 2020," Epic Games stated. "Daily active users peaked at 31.1M, and peak concurrent users reached 13.2M. December's monthly active users peak reached 62M users, an increase of 11% from last year's peak of 56M."
The company said about 31 million took part in its Christmas and New Year sales where gamers bought 159 million products, a sales figure that is 14% higher than the one recorded for 2020. The company also reveals that it will continue to offer "weekly Free Games" in 2022, and EGS is now targeting the Chinese New Year season to hit major earning milestones.
While major titles to be released for the year have not been announced, Epic Games said titles like Forspoken, Dying Light 2 Stay Human, S.T.A.L.K.E.R. 2, and Tom Clancy's Rainbow Six Extraction will be available for gamers in 2022.