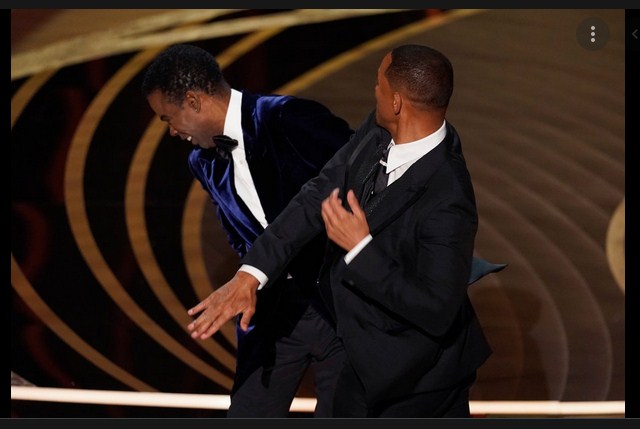 Following his public attack on comedian Chris Rock, popular actor Will Smith has resigned from the Academy of Motion Picture Arts and Sciences. The King Richard star who walked upstage to slap Rock for making a joke about Jada Pinkett Smith's shaved head said he was ashamed for having acted violently in public.
Smith's wife, Jada Pinkett, is suffering from alopecia and had proceeded to shave her head. Rock's reference to the shaved head during his public presentation had irked Smith, and he had slapped the comedian hard before warning him to "keep my wife's name out your f**king mouth."
What Rock had said to earn the slap was "Jada, I love you. GI Jane 2 can't wait to see you." But after the slap, the comedian who was visibly taken aback had said "Will Smith just smacked the shit out of me…wow dude…it was a GI Jane joke."
Police authorities said Rock had refused to press charges against Smith. But following the massive backlash that attended the attack, the 53-year-old actor apologized to Rock and subsequently resigned from the Academy after his first Oscar win. He is fully aware that the Academy's board of governors would initiate disciplinary actions against him, and these include suspension, expulsion, and stripping him of his Oscar.
"My actions at the 94th Academy Awards presentation were shocking, painful, and inexcusable," Smith stated. "The list of those I have hurt is long and includes Chris, his family, many of my dear friends and loved ones, all those in attendance, and global audiences at home.
"So, I am resigning from membership in the Academy of Motion Picture Arts and Sciences and will accept any further consequences the Board deems appropriate. Change takes time, and I am committed to doing the work to ensure that I never again allow violence to overtake reason."
He made it clear that he "betrayed the trust of the Academy…I am heartbroken…I deprived other nominees and winners of their opportunity to celebrate and be celebrated for their extraordinary work." He said he has responded to the Academy's disciplinary hearing notice served on him and that he is willing to "fully accept any and all consequences for my conduct."
Smith also spoke to the President of the Academy of Motion Pictures, David Rubin, and CEO Dawn Hudson, to apologize for the incident. The Academy has fixed April 15 to deliberate on the necessary course of action for the incident.