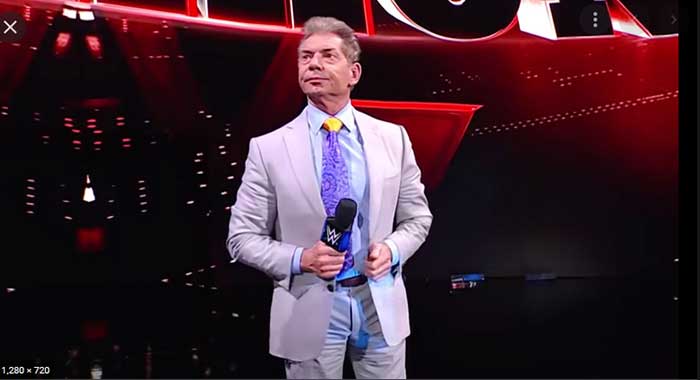 WWE chairman and CEO, Vince McMahon, has stepped down as the leader of the company following allegations of paying a former employee $3 million to keep silent over a romantic affair. McMahon's daughter, Stephanie, will take over as interim CEO and chairwoman of the WWE until investigations are concluded.
The Wall Street Journal first broke the news that McMahon, 76, is under probe for a $3 million settlement before the WWE board of directors broke the news. Also involved in the probe is John Laurinaitis, head of talent relations at the WWE. McMahon said he voluntarily stepped down for his daughter to take over, even though he'll retain his responsibilities for "WWE's creative content during this period."
The company's board did not reveal what McMahon did or was accused of, but they did say he will be out of his seat until investigations are concluded.
"Special Committee of the Board is conducting an investigation into alleged misconduct by its Chairman and CEO Vincent McMahon and John Laurinaitis, head of talent relations, and that, effective immediately, McMahon has voluntarily stepped back from his responsibilities as CEO and Chairman of the Board until the conclusion of the investigation," WWE said in a release.
McMahon said he will cooperate with the authorities during the investigation and will accept the outcome of the findings, "whatever they are." The WWE revealed that McMahon will come to the "Smackdown" show on Friday night on Fox and will talk about the controversy surrounding his position.
Stephanie, who used to be the WWE's chief brand officer, stepped back from her responsibilities at the company to take care of her family. She said she will work with the company directors to make the organization a safe and collaborative workplace for all employees, and will also support the panel investigating her father fully.
"I have committed to doing everything in my power to help the Special Committee complete its work, including marshaling the cooperation of the entire company to assist in the completion of the investigation and to implement its findings," she said.
The WWE board said they will not be addressing any media queries until internal investigations are completed. And it is unclear whether Laurinaitis, who used to be a wrestler under the name Johnny Ace will also step down from his role as head of talent relations.
McMahon's wife Linda was a former WWE CEO and also worked as head of Small Business Administration (SBA) under former President Donald Trump. McMahon acquired the World Wrestling Federation (WWF) from his father Vincent J. McMahon in 1982 and transformed the company to what it is today. The company is publicly traded, but McMahon holds the majority share.