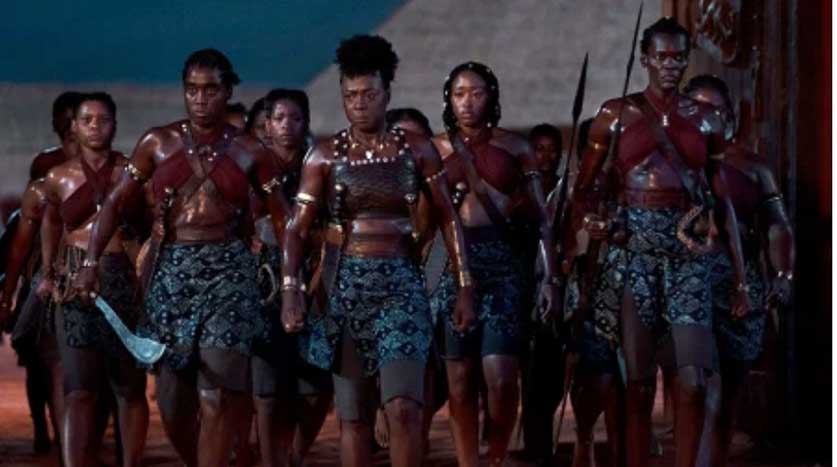 The Woman King has earned lots of reviews and is fast becoming an African epic movie that may burst the charts. Set to be screened at the Toronto International Film Festival and the release date set for Friday, September 16, the movie was directed by Gina Prince-Bythewood and lasts for 2 hours and 6 minutes.
The movie, which many have compared to Black Panthers, featured Viola Davis, Thuso Mbedu, Lashana Lynch, Sheila Atim, Hero Fiennes Tiffin, and John Boyega among others. The Woman King is the story of the Agojie, an all-female army that must defend King Ghezo (John Boyega) and his territory. Set in 1823, the movie tells the ancient story of the Agojie in Dahomey, a West African country that is now known as the Republic of Benin.
The all-women Agojie warriors were ferocious and savage fighters – led by Nanisca (Viola Davis). The movie centers on how the Dahomey kingdom engaged in local wars with neighboring African countries and took slaves which were sold to Portuguese slave traders. The Dahomey kingdom was a tributary to the more powerful Oyo kingdom, and it got to a time that they thought to rebel against Oyo and stop paying taxes to it.
While supporting the decision of her king to stop being a colony to Oyo, Nanisca urged Ghezo to stop selling slaves to foreign colonizers for money – even though the Dahomeian king was not selling his own people. Nanisca had a soul-tie with Izogie (Lashana Lynch) with whom she shares special moments but always disagrees with Nawi (Thuso Mbedu) who is heady and non-compliant.
Nawi was given to the king when she refused to marry the man that first came to be her suitor. The suitor had slapped her on their first meeting and Nawi had refused to marry him, so her parents gave her out to the king. This fact was revealed through flashbacks, and other major characters also had some portions of their secret pasts revealed through flashbacks.
Nanisca was a fearless and hard-nosed fighter who led her women warriors on many war campaigns. The Woman King shows many war scenes where the fighters display their fighting skills with machetes, spears, and other traditional weapons. The Warriors are as good at hand-to-hand combat as they are with weapons. But despite the bravery and display of war scenes in the movie, the central theme also focuses on community love, cultural togetherness, and patriotism.