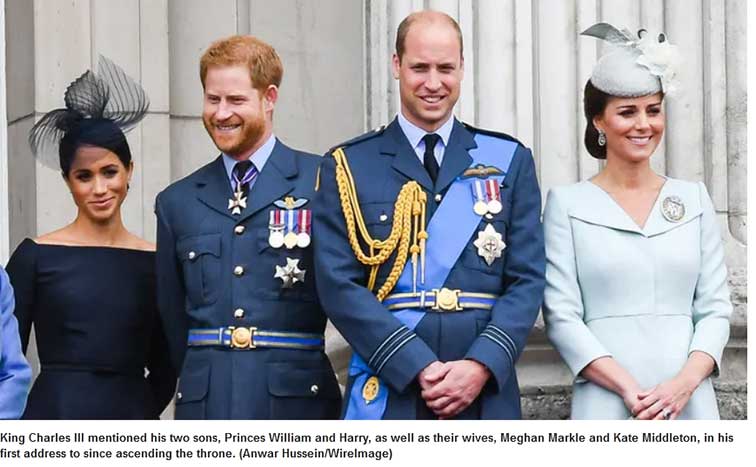 Prince William and his wife Catherine have been named the new Prince and Princess of Wales by King Charles III. William and Catherine will also bear the titles of Duke and Duchess of Cornwall. King Charles used to be Prince of Wales – having received the title in 1969 – and he and his wife Camilla – the new Queen Consort – used to be Duke and Duchess of Cornwall.
The new British king invested his first son and his wife with the new titles during his first address to the country following the death of his mother, Queen Elizabeth II, at Balmoral Castle, Scotland, on Thursday at age 96. Kate Middleton is the first to assume the title of Princess of Wales after the death of Princess Diana in 1997; the title was also given to Queen Consort Camilla, but she never used it in any official capacity.
"Today, I am proud to create him Prince of Wales, Tywysog Cymru," said King Charles III. "With Catherine beside him, our new Prince and Princess of Wales will, I know, continue to inspire and lead our national conversations. He added that they would help "bring the marginal to the center ground where vital help can be given."
The title of Prince of Wales does not automatically go to the heir to the British throne, but it has always been borne by the heir to the throne. Catherine as the new Princess of Wales said she was honored to be given the title and that she "appreciates the history associated with this role," having said in 2010 during her engagement to William that the late Princess Diana was a role model to look up to.
King Charles briefly expressed his love for his second son, Prince Harry, and wife Meghan Markle, saying he wished them the best "as they continue to build their lives overseas."
Meanwhile, the new king said he is surrendering all personal incomes and revenues from the crown estate – a total of about $14 billion – to the British government. King George III was the first monarch to do this in 1760 when he gave up all revenues from his private lands to the government. In return, George was given a sovereign grant to fund his official duties, and this shall also be the case with Charles, receiving a government income to fund his official and private activities as a sovereign monarch.
King Charles III was officially proclaimed the new British king by the Accession Council on Saturday morning at the St. James' Palace. He promised in his remark to work for the betterment of the UK and the British Commonwealth nations around the world.
"I shall strive to follow the inspiring example I have been set in upholding constitutional government and to seek the peace, harmony, and prosperity of the peoples of these islands, and of the Commonwealth realms and territories throughout the world," Charles said.