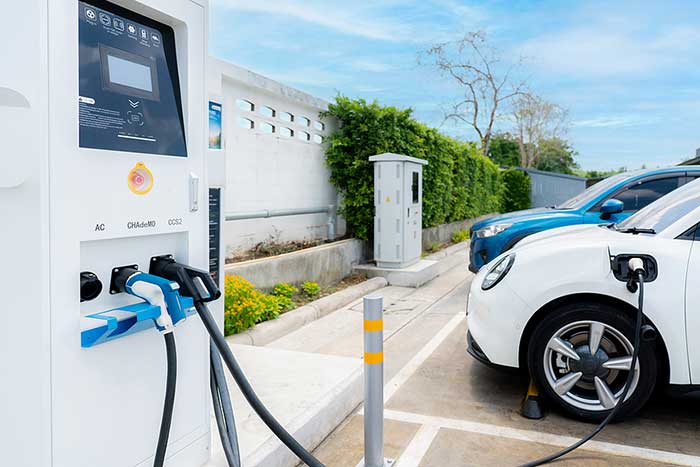 7% more Americans are considering buying an electric vehicle (EV) now than they were less than six months ago, according to one of TrueCar's most recent consumer surveys. With EV features of today becoming more compelling to potential buyers — such as the incorporation of artificial intelligence when it comes to autonomous features, there's no question that the field is becoming more and more advanced — and the way that EVs are charged is no exception. From understanding the different options currently available to unique innovations that involve solar and the potential of bi-directional charging features, here's what you should know.
Understanding the differences
For those looking to invest in an electric vehicle for the first time, it's important to understand that the term "electric vehicle" serves as an umbrella term for a variety of different types of EVs, each of which charges a different way. For example, hybrid electric vehicles, or HEVs (which are the most common type of EV), have a gasoline-fueled internal combustion engine, along with a small battery pack, an electric-assist motor, and a regenerative braking system. On the other hand, a battery electric vehicle (BEV), doesn't burn any liquid fuel and relies solely on electricity from the grid. While BEVs are commonly referred to as the kind of EV that everyone will be driving in the future, there are additional innovative charging options out there to look forward to as well.
Hydrogen fuel cell EVs (FCEVs) are another unique option out there, which uses fuel cells to power the motor rather than relying on a lithium-ion battery pack. PCMag notes that the fuel cells are similar in design to a lithium-ion battery in the sense that they do have an anode, cathode, and a catalyst (which works to "trigger the separation of electrons and protons from hydrogen gas pumped inside," notes the article). One particular advantage of FCEVs vs. other EVs is their potential for longer range, though, in regard to charging, it's noted that the electricity generated from hydrogen fuel cells can either directly power the electric motor, or store the energy for later use by charging a small lithium-ion battery that helps power the motor, according to PCMag.
Solar innovations
In regard to innovative EV charging, US startup Wink Motors has recently announced a new line of Neighborhood Electric Vehicles (NEVs). These NEVs work to present a cost-effective alternative to full-on EVs, as they're made for shorter trips that don't require high speeds. While the new four Wink NEVs are in fact street legal in the US, they have a government-limited top speed of just 25 mph and are allowed to operate on roads with speed limits of up to 35 mph, according to one New Atlas article. Some of the new NEVs, however, are able to utilize solar power — the Sprout Solar, for instance, has a removable solar rooftop feature that, pending factors such as location, can provide up to 15 miles of extra range per day. The Wink Mark 2 model also utilizes a solar panel as well.
The benefits of bi-directional charging
Bi-directional charging is yet another innovative way that has the potential to bring a variety of benefits to the table in terms of EV charging. It's important to note that most EVs of today currently use what is called 'unidirectional charging,' a process in which one Cars.com article explains that alternating current electricity is taken from the grid and then converted to direct current to then charge the car's battery. Bi-directional charging, however, allows for electricity to flow from the grid to charge the vehicle, or from the EV back into the grid "or into a home, office building or appliance," notes Cars.com.
Because bi-directional charging allows for vehicle-to-grid (V2G) and vehicle-to-home (V2H) charging, it brings a variety of options into the equation. For example, bi-directional charging via V2H would allow homeowners to power their home during a storm-induced blackout, or even use their EV battery for power when electricity prices are higher during the day — thus opening up the opportunity to save money, notes Protocol. The Nissan Leaf is just one great example of this, as according to the Protocol article, the vehicle's EV battery has a capacity of 40 to 62 kilowatt-hours — while the typical U.S. home uses around 30kWh each day — thus highlighting the sheer potential for such technology.
For those who are considering investing in an electric vehicle, there are a variety of innovations that can make the purchase appealing. In addition to features such as autonomous driving, various high-tech safety features, and making an eco-friendly switch, the innovations in EV charging highlight an entirely different set of possibilities in terms of what the future of EVs may look like.