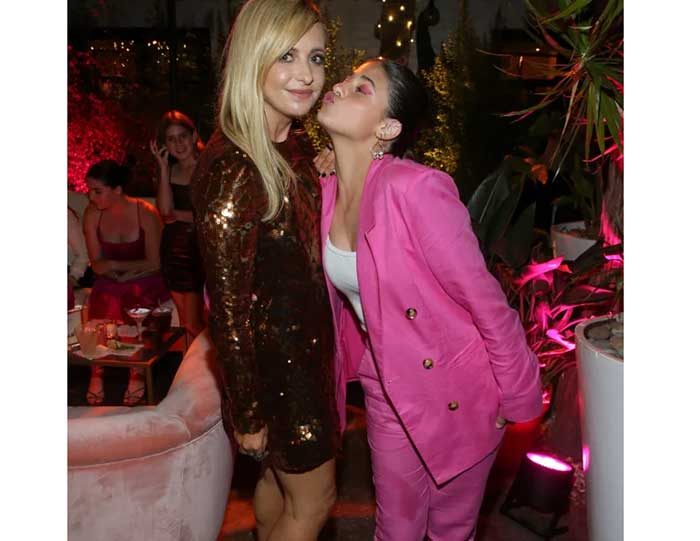 Sarah Michelle Gellar showcased her 12-year-old daughter Charlotte Grace at the premiere of Do Revenge on Friday. Do Revenge is Gellar's new Netflix teen drama and Charlotte Grace was in attendance on the red carpet. This was such a big deal because Gellar had never shown the faces of her two children – Charlotte Grace and Rocky Prinze, 10 – whom she shares with husband Freddie Prinze Jr.
The I Know What You Did Last Summer star had always kept her children away from the cameras. The few times she posted them on Instagram, she covered their faces with emojis, and her fans had been rearing to see her kids' faces. It is not clear if the 45-year-old actress brought Rocky Prinze to the premiere, but Charlotte Grace who wore a hot pink blazer with same-color slacks and white kicks blew air kisses at her mother's cheeks.
Do Revenge features Camila Mendes and Maya Hawke who also starred in Cruel Intentions – written and directed by Jennifer Kaytin Robinson. Gellar starred as Kathryn Merteuil in Cruel Intentions – a dark comedy movie where Merteuil is the headmaster – and Mendes and Hawke's characters teamed up to take vengeance on their bullies.
Do Revenge, which is currently streaming on Netflix, is considered by Robinson to be the rebirth of Mertuil.
"I also felt the excitement of sort of the reincarnation of these kinds of movies because you never grow out of these," Gellar said of Cruel Intentions. And of Do Revenge, she said "To me what's even better than paying homage is to redefine and bring something to a new generation. And that's exactly what Jenn does with this film."
In recent interviews, Gellar said she prefers to executive produce her own projects now based on the unpleasant experiences she had had with producers in the past. Though she would not go into details, she said that she is committed to making new performers work in a "safe space" without being harassed in any way. Having won a Daytime Emmy at 18, Gellar is currently producing and acting in the Teen Wolf spin-off Wolf Pack for Paramount+.
"Because I've been there," she said. "And I want [the performers] to always have a safe space. And I've had my fair share of experiences, I have just chosen not — I don't win by telling my stories, emotionally. I look at people that tell their stories, and I'm so impressed. But in this world where people get torn apart, and victim blaming and shaming, I just keep my stories in here."