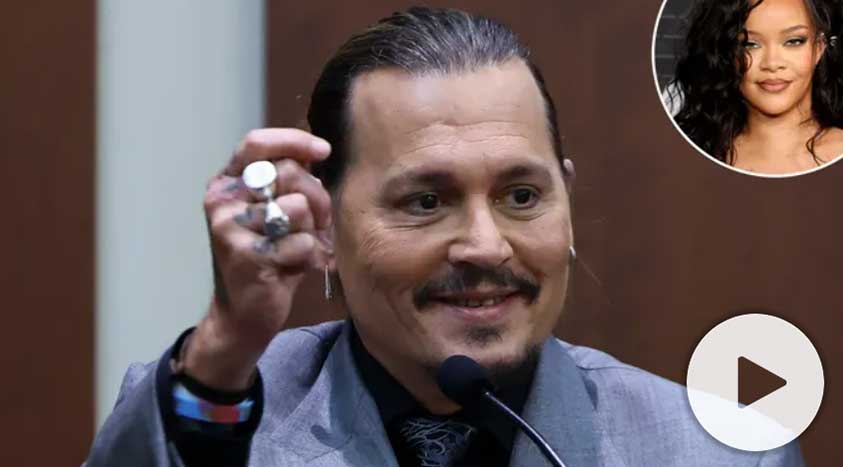 Given that singer Rihanna is featuring actor Johnny Depp in her upcoming Savage X Fenty fashion show, the "Lift Me Up" singer has come under serious bashing for having Depp on the show. The Savage X Fenty Volume 4 Show is a casting event that features models and musicians who all come together to promote the lingerie and men's underwear brand.
With the cameo already filmed and scheduled to debut on Amazon's Prime Video next week, Depp is wanted out of the show by Rihanna's fans because of his messy divorce with Amber Heard. Depp was finally awarded $10 million against Heard by the courts after a lengthy trial that lasted for several weeks over allegations and counter-allegations of domestic abuse and violence.
Several of Rihanna's fans threatened to boycott her fashion brand if Depp is not edited out of the final show which had been filmed. "Editing team better be out here deleting this man out of this," one Instagram user stated. And with the hashtag #DitchDepp already trending on Twitter, a user stated that "for those outraged, I would wait to see if this actually happens; this isn't how Rihanna rolls."
Noting that Rihanna also reportedly suffered domestic abuse from singer Chris Brown, a Twitter user-supported her decision to feature Depp in her coming show, stating that it is a matter of "survivors supporting survivors." In case the 59-year-old embattled actor makes the cut, it would be the first time a male features in Rihanna's Savage X Fenty show.
Celebrities that had modeled for Savage X Fenty brand in past shows include Cindy Crawford, Erykah Badu, Paris Hilton, Vanessa Hudgens, and Emily Ratajkowski among others. Those billed to feature in Volume 4 of the show include Anitta, Burna Boy, Cara Delevingne, Simu Liu, Irina Shayk, Joan Smalls, Taraji P. Henson, and TikTok star Bella Poarch.
For Depp, he claimed following his divorce victory with Heard that he lost his contract to feature in future editions of the Pirates of the Caribbean movie and also lost out on Fantastic Beasts. He confirmed that many companies dropped him at the height of the trial. But after his win, a source revealed he won a 7-figure deal to be the new face of Dior and is set to feature as King Louis XV in La Favorite, a forthcoming French movie.