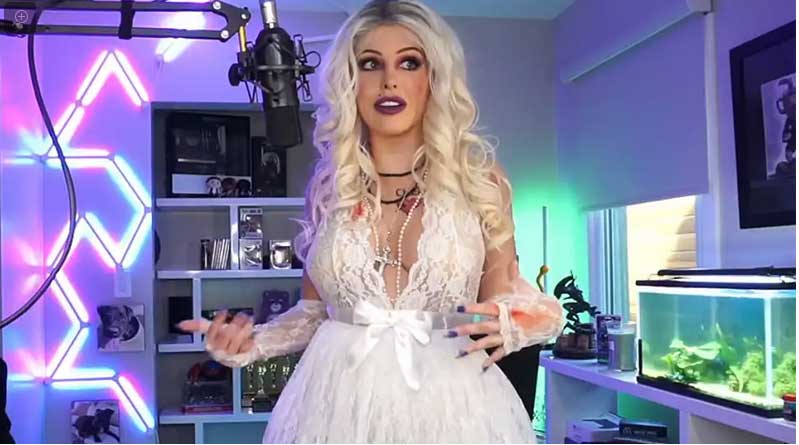 Twitch streamer Adriana Chechik revealed that she lost an unknown pregnancy during surgery to correct the bone fractures she suffered during an unfortunate fall into a foam pit at the TwitchCon show earlier this month. She said she didn't even know she was pregnant until doctors told her after the 5-hour surgery that the baby had to be evacuated to save her life.
"I don't care, everyone's gonna know, but I was pregnant and I didn't find out until I was in the hospital," Chechik told her fans and followers. "I'm not pregnant anymore because of the surgery. I couldn't keep it. But my hormones are also through the ffucking roof because of that."
She broke her tailbone and several vertebra and also suffered nerve damage to her bladder after innocently jumping into a foam pit during the TwitchCon event in San Diego, California. She disclosed later before entering the theater that "I broke my back in two places and I'm getting surgery to put a meter rod in for support…send your support."
After more than 5 hours to repair her broken backbones and correct some nerve damage, she began to make some recovery and she wrote on social media that everything was very painful. She said she passed out just for brushing her teeth and had to be carried back to the hospital bed, and merely holding a phone get her tired and weak easily.
"Tried sitting up today in PT, I would rather die than do that again," she revealed on October 13 so her fans could know how she was recovering. "I hate this my whole body hates it. I don't want to be tough. I don't want to be brave I cried for an hour and the pain is so immense through all the meds im on. Idk if I can do this. I can't explain this pain."
After her discharge from hospital, Adriana returned to Twitch to show off the scars of her surgery and to update her followers on her recovery. She revealed the stitches that ran the length of her back were inside and thanked the doctors for doing "an amazing job" on her.
Although she doesn't seem to hold any grudge against Twitch which organized TwitchCon or Kairos Media which is the creative agency behind the booth, both Twitch and Kairos have not released any statements since the accident.