Rihanna didn't win a Grammy last Sunday, even though, she had 8 nominations for her amazing album ANTI. But the star gained the same amount of attention as those who actually won, by having a good time with her friends, dancing, and drinking from that fashionable flask that almost eclipses her gorgeous Armani Privé gown.
If the night is long, drinking may be the solution
As we all know, The Grammys is pretty long, from our homes we only watched the smiling faces on the red carpet and the great show that preceded it. However, guests of the the event dedicate a number of hours prior to it, with their careful preparation in addition to the long wait while each one of the stars arrives to the show, walks the red carpet, is interviewed, photographed and finally occupies its seat in the theater.
Before the ceremony, all the starts drink to relax themselves and to light up the hours to come, but nobody had been as brave or carefree as Riri. She hung out with Ed Sheeran and her best friend, while drinking from a bejeweled flask.
Can we please just appreciate Rihanna for a second 😂 pic.twitter.com/bumiuxzmwx

— Brady (@BradySpears) February 13, 2017
Riri stole the show and the camera
It didn't take long before the producers realized that the best way to break up that eight and a half hour show, was to keep the camera looking at Rihanna and all of her shots.
Rihanna's that person who brings a flask to a "beer and wine only" wedding. pic.twitter.com/5eQuOlAdcX

— PGP (@PostGradProblem) February 13, 2017
Riri's videos are all over the internet
We could not miss the comments of the viewers who soon viralized the videos of the singer drinking throughout the ceremony.
"I think it's time for another shot" 😫😢 #GRAMMYs pic.twitter.com/5XIyrSmR6U

— Rihanna Navy Brasil (@RNavyBrazil) February 13, 2017
She's just so carefree and cool, I want her to be my BFF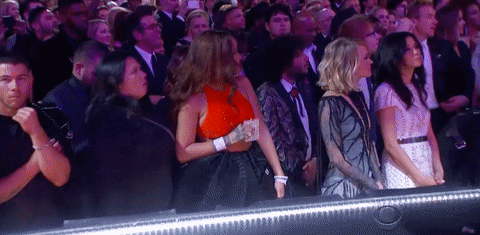 Source: etonline