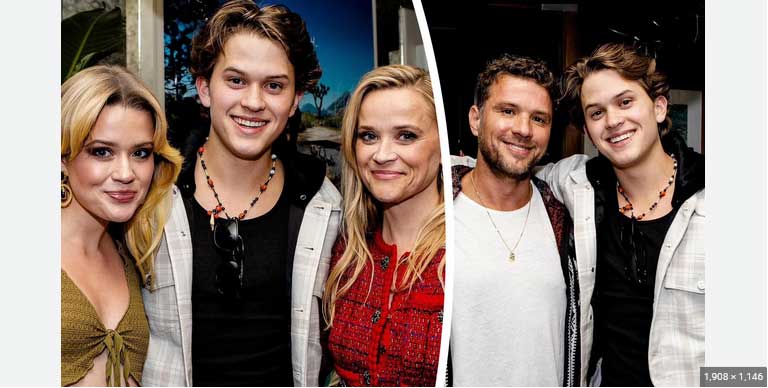 Actress Reese Witherspoon and ex-husband Ryan Phillippe reunited for their son's album launch on April 14. This reunion was after Reese divorced her second husband Jim Toth – two weeks ago – just a few days before their 12-year wedding anniversary, Eonline writes.
Reese shared Deacon, 19, and Ava, 23, with ex-husband Ryan; and she shares a 10-year-old son with Toth.
It was a family reunion when Reese, Ava, and Ryan all gathered to celebrate Deacon at the launch of his new album titled "A New Earth". Deacon and Ava posed for photographs with their mum, and Deacon also took photos with dad Ryan as well as many other celebrities that graced the simple occasion.
Ryan posted the event on his Instagram and Deacon also did the same with a carousel of numerous photos.
"Awesome night w family & friends celebrating the release of A New Earth by Deacon," Ryan wrote on Instagram. "Thank you so much to everyone who attended and to our sponsors. Stream, download, and listen to the album."
Ryan and Reese had met a few times since their divorce in 2008 (they got married in 1999). They reunited in 2021 when Deacon celebrated his 18 years birthday and Ryan thereafter wrote on social media how he had turned out a sweet boy because of the handsome way he and his mother had raised him.
"Happy 18th birthday to our gorgeous, smart, talented, and caring son," the actor wrote. "You are a true light in this world and are so loved by all who know you. We are lucky to be your mom and dad. Love you, pup. I'd say we did pretty good Reese Witherspoon."
The former couple also celebrated Deacon after he featured for the first time in a movie – season 3 of Netflix's Never Have I Ever as the character Parker.
"He's such a great kid. Such a talented kid," said Mindy Kaling, the co-producer for the movie. "He grew up with two successful actor parents but came to set open-eyed wanting to learn. When he finished, he wrote me the nicest note. He's so Reese's son."