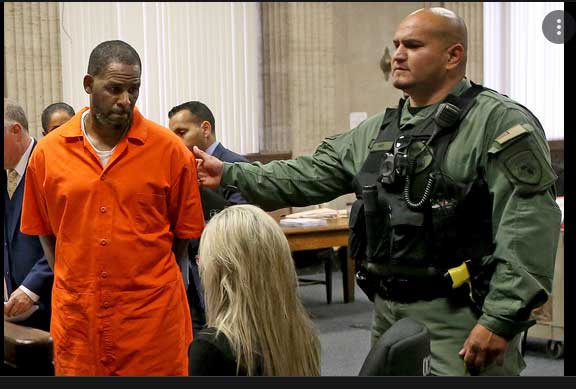 R&B singer R. Kelly's lawyer, Jennifer Bonjean, has sued the US government and the Metropolitan Detention Center in Brooklyn for placing the singer on suicide watch. Born Robert Sylvester Kelly, R. Kelly is sentenced to 30 years in prison for sex trafficking and child abuse and is being held at the detention center in Brooklyn, awaiting transfer to a prison facility where he will serve out his sentence.
Bonjean said the disgraced musician is not suicidal in any way and should not have been placed on suicide watch. The lawyer said it is unlawful for the Metropolitan Detention Center to put her client under suicide watch and that the jail is notorious for placing top celebrities under watch. She said the jail was only out to punish Kelly in violation of his fundamental human rights.
"R. Kelly is not suicidal," Bonjean said. "He was in fine spirits after his sentencing hearing and ready to fight this appeal. Mr. Kelly was placed on suicide watch for purely punitive reasons in violation of his Eighth Amendment rights. MDC has a policy of placing high profile individuals under the harsh conditions of suicide watch, whether they are suicidal or not. MDC Brooklyn is being run like a gulag."
After Judge Ann M. Donnelly sentenced R. Kelly, Bonjean said she called the Brooklyn jail to learn about his wellbeing, but was rebuffed, and the phone repeatedly hung up on her. She said she only knew of Kelly's welfare when the prosecution reached out to the jail. She noted that the incarcerated singer was supposed to email her on being confined, but she did not receive any communication from him until she found he was on suicide watch.
"It's punishment for being high-profile," she said. "And it's horrifying, frankly; to put someone under suicide watch under those conditions is cruel and unusual when they don't need it. The irony of putting someone on suicide watch when they're not suicidal is it actually causes more harm."
Bonjean is asking the courts for a temporary restraining order to have Kelly removed from suicide watch.
The singer's 30-year-sentence is the conclusion of five weeks of trial, in which numerous witnesses testified that R. Kelly sexually and emotionally abused them. He was also convicted of using his status and closest associates to recruit young boys and girls for the singer's sexual pleasure. He was also condemned for fraudulently arranging a marriage to late singer Aaliyah in 1994 when the singer told him she was pregnant at 15 years of age. Kelly falsified her age to 18 to marry her.
Prosecutors asked the court to sentence the fallen musician to more than 25 years in prison, but the defense pleaded for 10 years or less.