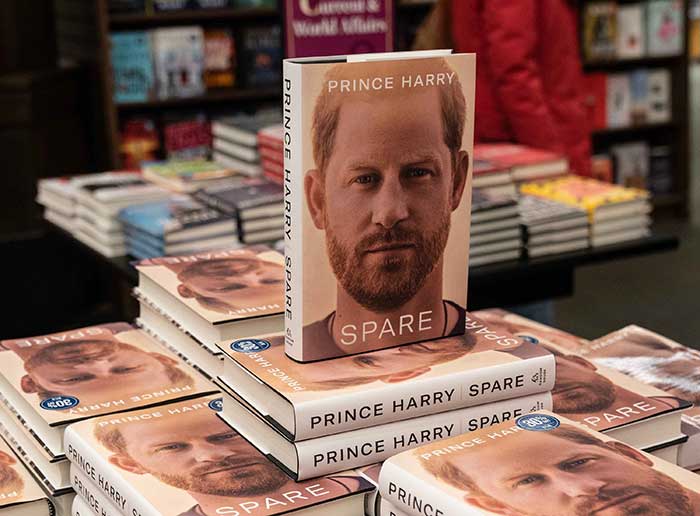 Prince Harry's book, Spare, sold 1.4 million copies on its first day of release. The book has also been translated into 16 languages, with the title modified with the nuances of each language. Published by Penguin Random House and released in paper, audio, and electronic formats in the US, UK, and Canada, the book broke sales records on its first day of release.
"The first full day of sales of Spare represents the largest first-day sales total for any nonfiction book ever published by Penguin Random House, the world's largest trade publisher," Penguin Random House said.
The 410-page memoir sold into midnight on the first day of release, and it was also reprinted to meet the growing demand. The publisher said more copies were printed after an initial 2 million copies ran out. Random House said Prince Harry made startling revelations that the world would want to know about the Royal Family in the much-anticipated memoir.
The Duke of Sussex made revelations about his mother's (Princess Diana) death, experimenting with drugs, and struggling to find love. He also spoke about his relationship with his father, now King Charles, and his brother Prince Williams, as well as other members of the Royal Family. He delved into his military career as a pilot, as well as controversies that the Royal Family would want to be kept secret.
"Vulnerable and heartfelt, brave and intimate, Spare is the story of someone we may have thought we already knew, but now we can truly come to understand Prince Harry through his own words," said Gina Centrello, president and publisher of the Random House Group.
While Harry's Spare has been hailed as breaking a world sales record on the first day of release, former President Barack Obama's A Promised Land published by Crown (an imprint of Penguin Random House) in 2020 sold 887,000 copies in all formats at its simultaneous release in US and Canada.
Analysts opined that the title of Harry's memoir, Spare, reflects an old British adage of "the heir and the spare" which points to the fact that Prince Williams is the heir to the British throne while Harry is the spare. Harry would have been in line behind William to the throne, but with Williams' three children, this is no longer the case because Williams' children will be in line ahead of him, making him the spare in this case.