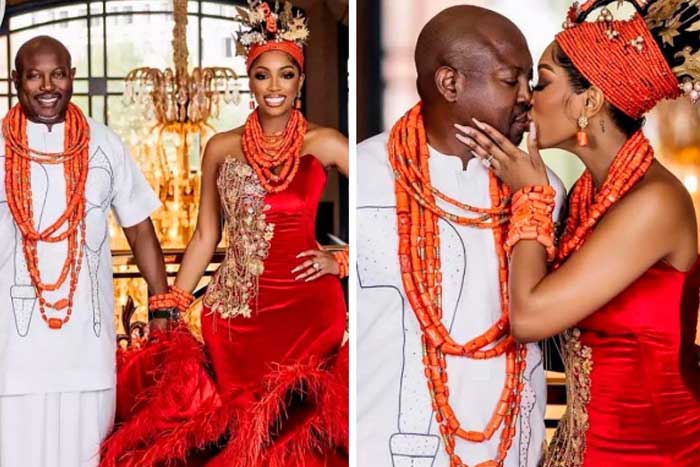 Real Housewives of Atlanta (RHOA) alumnus, 41-year-old Porsha Williams married Simon Guobadia in a lavish traditional wedding ceremony that would last two full days. Wedded at the Four Seasons Hotel Atlanta on Friday, 250 guests were in attendance as Williams and Guobadia tied the knot in a traditional marriage ceremony symbolic of the Benin culture of Edo State in Nigeria where the 57-year-old groom hailed from, People writes.
Williams expressed delight at the fashion extravaganza, which is reflective of the numerous wardrobe changes she had to make on the first day of the wedding. She changed her traditional Benin attire three times on Friday, and she will change them four more times on Saturday when the English wedding will take place the American way.
The customary wedding attires were designed by Lakimmy and Tabik. The clothes worn by guests at the wedding were typical of Yoruba and Edo traditional cultures, and these included Iro and Buba, and gele head-wrapped ornamented with local beads for the women. The men wore agbada made from guinea or lace fabric and matched this with a hat style made from Asoke fabric.
"It was a huge undertaking," Williams said. "I personally chose the fabrics that they're (guests) going to be wearing, including their head wrap, their gele. I chose all of the colors, everything. I should be a stylist after this! It's going to be interesting to see people's take on the fabric. It's going to be a beautiful expression of fashion, love, and family."
According to local wedding customs in the southwest of Nigeria, spokespersons representing the groom's family and bride's family officiated at the marriage ceremony. Traditional Benin dancers and singers also performed at the occasion to the delight of all guests. Local Benin foods of egusi, okra stew, and snails were prepared; balanced with southern foods of fried lobster, steak, and cornbread for Williams' people.
Guobadia expressed delight that his new wife chose to have the first part of the wedding the Nigerian way to honor his ancestral root.
"For starters, I was so excited and, quite frankly, surprised that she wanted to do the traditional way because it's not something you hear every day," he said. "To embrace my culture and want to be married in that fashion is something that blows my mind. I think some of the folks we brought on to help us go through the whole ceremony and that whole process were surprised that she knew so much already about the outfits, the clothing, the names, and all of that. She's immersed herself in the culture, I'd say in the last year."
The American wedding will hold at a church in Atlanta on Saturday, with 350 guests attending. Guobadia's children from previous marriages will attend the wedding, and so is Williams' daughter. Williams shares three-year-old daughter Pilar Jhena with ex Dennis McKinley, while Guobadia has five kids – Quentin, Nicole, Christian, Benjamin, and Ximena.
"I've always wanted to have four kids, so it's a blessing that he has three younger ones that are at home a lot of the time, and then I have my Pilar," Williams said. "But as far as me being able to experience having a child with him, I definitely want to explore that. I'm not sure how many that will include, but I definitely know it wouldn't be more than two."