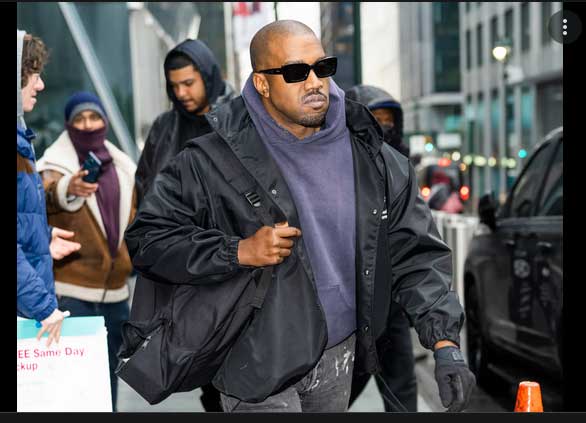 A design and production firm, Phantom Labs, has sued rapper Kanye West for not making payments for projects he commissioned in the last year. Phantom Labs filed a $7,154,178 million lawsuit against Kanye at the Los Angeles County's Superior Court. Phantom Labs is represented by Howard E. King, a famous attorney who had represented Kanye himself in the past, as well as Dr. Dre, Pharrell Williams, and Metallica among others.
The plaintiff is filing the lawsuit against Kanye, who prefers to be called Ye, and many of his companies. The plaintiff said it was contracted to work on Kanye's Donda 2 Livestream event, his Free Larry Hoover show with Drake, many of his Sunday Services, and his canceled Coachella appearances, as well as his studio spaces. The plaintiff said the accused amassed the debt from June 2021 to March 2022.
"We are incredibly proud of the work that we did with Ye and are disappointed that such a fruitful relationship has come to this," Phantom Labs stated. "A celebrity weaponizing fame and reputation to take advantage of eager collaborators is simply unacceptable."
In providing a timeline of events, Phantom Labs said Kanye initially made payments when they first started working together. But the payments stopped with time, and all efforts to recover his debts failed. The firm the Hip-Hop star hired in October 2021 to renovate a warehouse that the rapper was converting into an office and creative space in downturn Los Angeles.
The firm was hired again to four Sunday Services managed by Kanye throughout November 2021, but no payments were forthcoming for the producing the gospel events. They were also contracted to outfit a studio for a partner that the rapper was working with; and he also commissioned them to renovate a property in Seward Street, a job they got partly paid for.
Then in December last year, they were asked to work on the Free Larry Hoover concert where Drake also performed, as well as a post-production concert recording that was not paid for. And despite the accumulating debts, the firm proceeded reluctantly when it was asked to also work on Donda 2 that same month.
Phantom Labs said the budget for Donda 2 in Miami was $11.7 million and that they were told Ye would pay from another deal he had on hand, but he blew up the live streaming deal a few days before the event. When the vendors that Phantom hired for the concert threatened legal action, Ye made some payments to settle them, but the firm is still owed $2,279,443 from the budget.
When Coachella was on hand, Ye's people approved for Phantom to work at the event and that about $5 million of past debts would be paid up, but Kanye canceled the show and Phantom had to cough up $1,063,477 for services provided through various contractors. To make matters worse, Ye reportedly tried to pay Phantom's vendors behind their back, even though the firm was not paid a dime.
Earlier in July, Kanye was sued by David Casavant Archive, a fashion rental service, for $400,000 when he refused to make payment for 13 iconic clothes he rented and refused to return to the service.