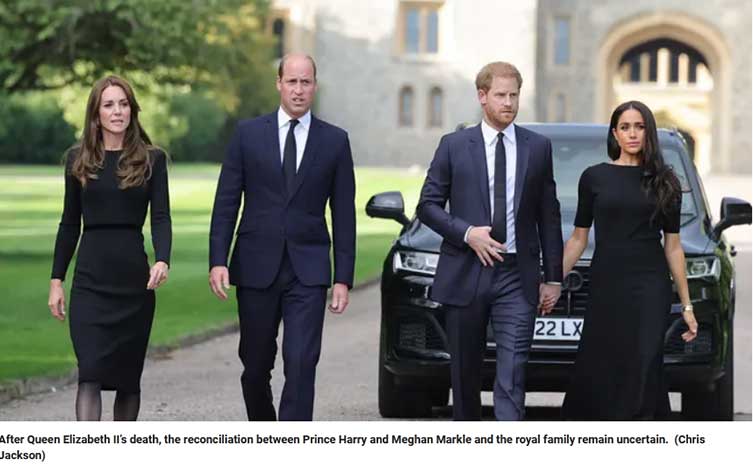 In a new book, "In Courtiers: the Hidden Power Behind the Crown", the Duchess of Sussex has been portrayed as a difficult lady. Written by The Times royal reporter Valentine Low and due for release on October 6, the upcoming book describes Meghan Markle as a royal figure that controls Prince Harry and treats palace staff badly, Fox News reports.
In various excerpts from the book, the author showed from interviews with Buckingham Palace staff that Markle often shouted at royal staff and acted against royal protocols in many areas. In one instance, Markle was said to have pressurized Harry during their courtship that he should declare they were a couple to scare away his other girlfriends and establish her position in the palace.
"She was saying, 'If you don't put out a statement confirming I'm your girlfriend, I'm going to break up with you,'" a royal source told Valentine Low. "He was freaking out, saying, 'She's going to dump me.'"
Harry and Markle's relationship became public in October 2016 and they got married in 2019. She was described by palace servants as a lady who was not afraid to share and even enforce her opinions. She even allegedly told one of Harry's staff before their marriage that she was going to become his boss very soon and the earlier the staff knew this the better.
"Harry's staff knew that Meghan was different from other royal girlfriends," Low wrote. "She had her own opinions and would let people know what they were. In the spring of 2017, more than six months before the couple were engaged, she told one of Harry's advisers: 'I think we both know I'm going to be one of your bosses soon.'"
Some members of staff at the palace also stated that they overheard the Duchess of Sussex on several occasions complaining about not getting paid for most of her royal duties. She reportedly told someone during her October 2018 Australian tour that she ought to be paid to go on tours and to shake hands with people during official visits.
"Although she enjoyed the attention, Meghan failed to understand the point of all those walkabouts, shaking hands with countless strangers," Low wrote. "According to several members of staff, she was heard to say on at least one occasion, 'I can't believe I'm not getting paid for this.'"
The Duchess was also said to treat royal staff as if they amounted to little, and that she often got harsher than necessary with servants. Her former personal assistant, Melissa Touabti, reportedly resigned in 2018 because Meghan would not see things her way.
For instance, Touabti told Meghan that it was against royal protocols to accept free gifts from commercial organizations, but the duchess insisted on accepting and even using free gifts of clothes, jewelries, candles, and other items delivered to her through Kensington Palace. When Touabti found that her boss would not stop accepting the gifts which arrived non-stop at the palace, she resigned.