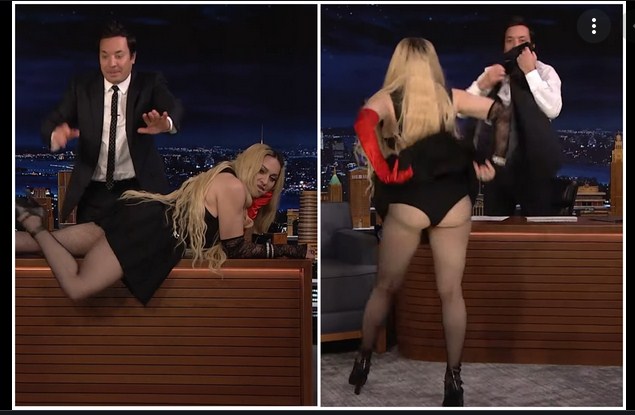 Madonna expressed regrets for not starring in The Matrix even though she has turned down offers to feature in high-profile movies. While being interviewed by Jimmy Fallon on The Tonight Show, Madonna said she wanted to kill herself when she realized the opportunity she lost by not starring in the movie which grossed $1.6 billion worldwide.
"I also turned down the role in The Matrix," she disclosed. "Can you believe that? I wanted to kill myself. That's like one of the best movies ever made. A teeny-tiny part of me regrets just that one moment in my life."
The musician revealed she also turned down role offers in Batman Returns and Showgirls. While she did not regret passing on opportunities to feature in both movies, she described the Catwoman role in Batman Returns as very fierce. No one knows the character she would have played in The Matrix, but it is speculated that she would have featured as Trinity which was later played by Carrie-Anne Moss.
The Matrix Resurrections is however set to launch in December.
Madonna was on Jimmy Fallon's interview show to promote her concert film titled Madame X. Insiders said she didn't feature in the movie, but she said it is a documentary set to disturb the peace of everyone in a positive way. She noted that the movie was inspired by novelist and activist James Baldwin, and she explained that it is one film that perfectly represents what she stands for.
"One of the things I quote over and over again in the show is that 'Artists are here to disturb the peace,'" Madonna said. "I hope that I have disturbed not only your peace this afternoon, but people's peace while they watch the show—but I mean that in the best way."
The 63-year-old artiste chatted nicely with Fallon and told him how she had been to the therapist and how she likes opiates. At a point, she left her seat and cleared away all items on Fallon's desk in a swift move that got the interviewer nearly scarred. Then she lifted her skirt to the audience in a quick move that caught everyone unprepared.
"Life is not just about interviewing kiddies," she told Fallon. "Don't you want to talk to an adult?"