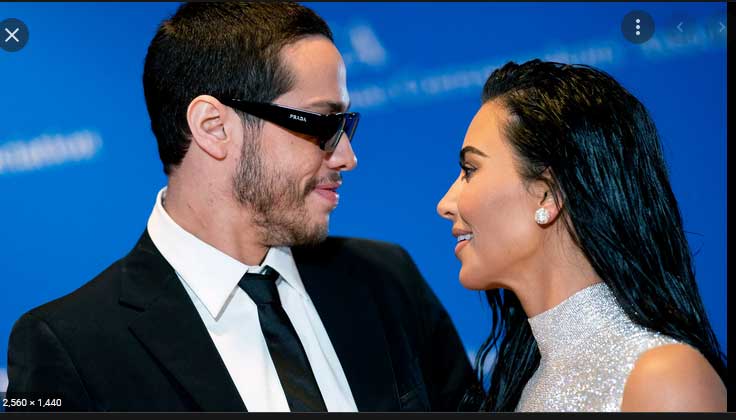 Kim Kardashian has confessed that she fell for boyfriend Pete Davidson because he's well-endowed down there. The SKIMS found made the confession in the eighth episode of The Kardashians TV show, which airs on Hulu. Kim, 41, said she had heard so much about Pete's "BDE" and that she was just "DTF" when hooked up with him.
In going down memory lane to narrate how they got together, Kim said she co-hosted the Saturday Night Live (SNL) show with Pete, and they ended up kissing on set. She said she later had an after-party and that Pete was absent from the party, so she called up the SNL producer to obtain his phone number.
"I did SNL, and then when we kissed in the scene, it was just a vibe, and I was like, 'Oh s**t, maybe I just need to try something different,'" Kim narrated. "But Pete does not come to my after-party. Everyone was at my after-party. Does not give me the time of day. So a few days later, I called the producer at SNL and was like, 'Hey, do you have Pete's number?' And they were like, 'Yeah.'"
"I text him," Kim confessed. "I wasn't even thinking like, 'Oh my God, I'm gonna be in a relationship with him.' I was just thinking, 'Heard about this BDE (big d**k energy). Need to get out there.' I need to just like…jumpstart my…I was basically just DTF (down to f**k)."
Kim went on to reveal that she has been very happy since she began dating Pete. She said the tall 28-year-old comedian is "the best human being I've ever met" and that he has a good heart. She noted that most people love Pete because of his humor, but his humor is "like fourth on my list of why I like him." She added that her boyfriend is so graceful at handling things and that his humility and thoughtfulness are so genuine.
"I would say the perfect word to describe Pete is – genuine," she enthused.