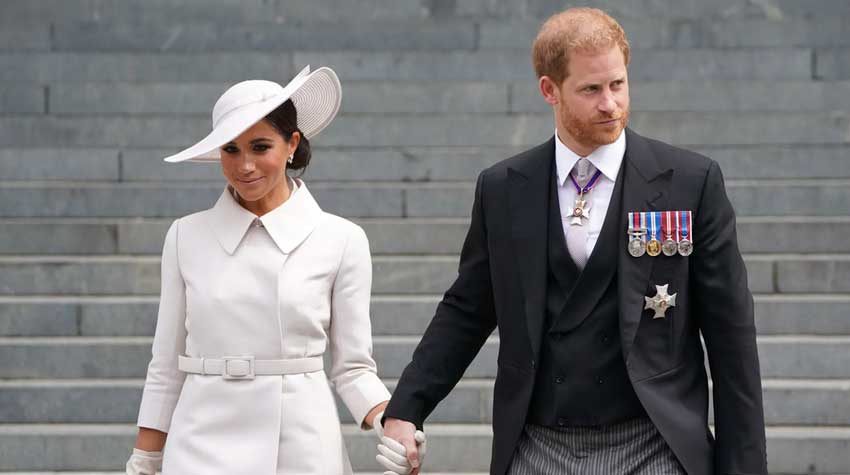 Observers have noted that Prince Harry and Prince William did not interact during the Service of Thanksgiving, which was part of the lineup for Queen Elizabeth's Platinum Jubilee celebrations on Friday. The church service was held at St. Paul's Cathedral with Prince Charles, Prince William, and his wife Kate Middleton, and Prince Harry and wife Meghan Markle in attendance, Page Six reports.
Queen Elizabeth II, 96, did not attend the Service of Thanksgiving because of a reported discomfort she had been having since Thursday.
Observers stated that Harry and Markle sat on opposite sides of William and Middleton during the thanksgiving service, and did not seem to interact throughout the service. The two brothers and their wives however interacted with other members of the royal family until the service was over. Markle was seen chatting and having fun with several great-granddaughters of the Queen on Thursday during the Trooping the Colour parade ceremony.
Harry, 37, and Markle, 40, left the church hand-in-hand with large crowds of people jeering and booing at them.
When the Queen and Prince Charles as well as William and Middleton and their children had a photo session on the balcony of Buckingham Palace, Harry and Markle were absent since they resigned from working royals in 2020 following their controversial wedding. During the photo op, Prince Louis caught the fancy of thousands of people across the UK with his funny facial expressions, which many people interpreted as having lots of meanings.
"At the moment, it does not look likely that Harry and Meghan and William and Kate will meet up separately during the Jubilee celebrations," one palace source said. "There is certainly nothing in the diary at the moment."
The Queen's 70-year-old rule celebrations started on June 2 and will terminate on June 5 with military parades, church services, and street parties. The celebrations were attended by PM Boris Johnson, members of the cabinet, former prime ministers, Lord lieutenants representing all UK counties, and governors-general as well as representatives from overseas territories.