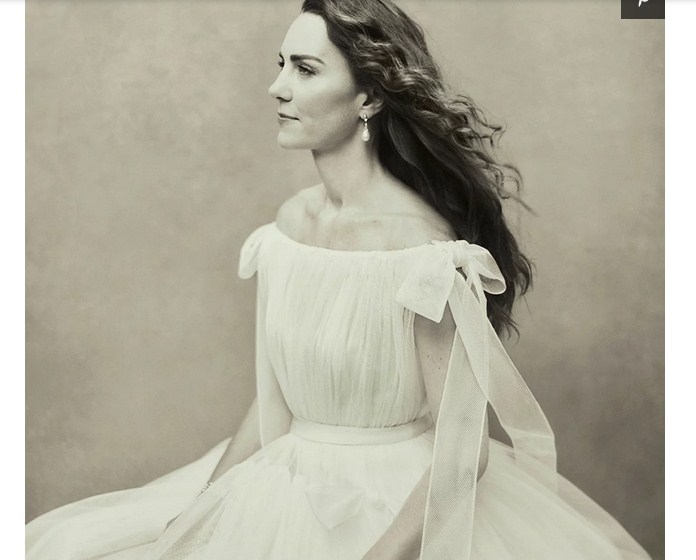 Kensington Palace has released three iconic portraits of Kate Middleton, the Duchess of Cambridge, ahead of her 40th birthday celebrations on January 9. The photos which looked like something from the fairy tale were taken by Paolo Roversi in November 2021. The Palace said the photos will join the Collection of the National Portrait Gallery.
The National Portrait Gallery was shut down due to the COVID-19 pandemic, but it will reopen in 2023. The outstanding portraits were taken at three major locations which had special relevance to Middleton: Berkshire, St. Andrews, and Anglesey. So the photos will be part of the Homecoming Project – meaning they will be sent to the three places where they were taken so that the local communities can appreciate them.
Middleton was raised in Berkshire, South England, and her parents Carole and Michael Middleton still live there in the village. She often goes there on occasion to spend time with her natural family. Middleton and Prince William met at the University of St. Andrews in Scotland in 2002, and they fell in love. Anglesey is an island off the coast of Wales where the couple lived during their honeymoon in 2011 while the prince trained for the Royal Air Force.
In the special portraits, the Duchess of Cambridge wears diamond and pearl drop earrings as well as a sapphire engagement ring that belonged to Princess Diana, the Princess of Wales, and her late mother-in-law. Kate and William have three kids – Prince George, 8; Princess Charlotte, 6; and Prince Louis, 3.
A royal expert, Kate Nicholl, said Kate Middleton would have loved to celebrate her birthday in a big way, but the restrictions of the pandemic would not allow that. She said the future queen of England may also likely want to bake her birthday cake by herself, since she is fond of baking and often works late into the night on the days before her children's birthdays.
"I think we are going to see the duchess celebrate her 40th – it is a milestone birthday, it's an important birthday – and I think there will be a celebration, but I think it will be a celebration for family and for close friends," Nicholl said. "There was talk of a big party which has apparently been downscaled because of COVID and because of the restrictions. But I suspect that Kate is probably happier having something a little bit more low-key. She had a big 21st birthday, but I think that was the last big birthday that she really, really celebrated."