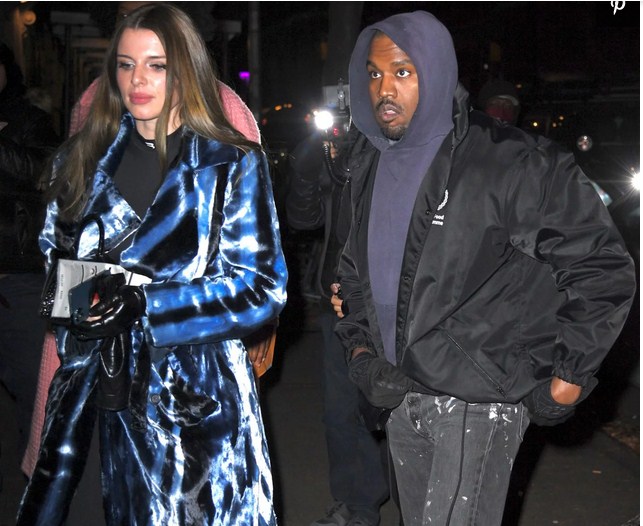 Actress Julia Fox continues to revel in going out on dates with Kanye West, while her estranged wife Kim Kardashian said he is only desperate to make her jealous. In a tell-it-all interview, Fox said she has gone out on dates with West on two occasions and looks forward to what the future holds for them.
The Uncut Gems actress said she met West, who now prefers to be called Ye, on New Year's Eve. Fox said the rapper and Yeezy founder is fun to be around with and that he has magnetic energy. She revealed that they went to watch the Slave Play in New York City and then had dinner at Carbone restaurant.
Fox went on to reveal that Ye directed a photoshoot session for her at the restaurant and even gifted her a whole suite full of clothes. She made the point that she is open to taking the relationship further with West.
"At the restaurant, 'Ye directed an entire photoshoot for me while people dined!" she stated. "The whole restaurant loved it and cheered us on while it was happening. After dinner 'Ye had a surprise for me. I mean, I'm still in shock. 'Ye had an entire hotel suite full of clothes. It was every girl's dream come true. It felt like a real Cinderella moment.
"I don't know how he did it, or how he got all of it there in time. But I was so surprised. Like, who does things like this on a second date? Or any date! Everything with us has been so organic. I don't know where things are headed but if this is any indication of the future I'm loving the ride."
Kardashian who is on a romantic vacation trip with his new boyfriend Pete Davidson said West is only trying to get her attention and that he won't succeed. One of her close aides revealed that West is in a very "desperate attempt to make her jealous" but the SKIMS founder has moved on and not looking back.
Although West has professed his love for Kardashian and proclaimed publicly that he wants her back in his arms, the Keeping It Real With The Kardashians star is not ready to return to him and even filed to have her maiden name back. West even bought a home directly opposite the street where Kardashian and Davidson were staying at Hidden Hills, but she didn't even acknowledge his nearness.
"She knows it's not serious and is just typical hijinks from Kanye," the source added. "She honestly doesn't care, she's very over him at this point so his little game isn't working."