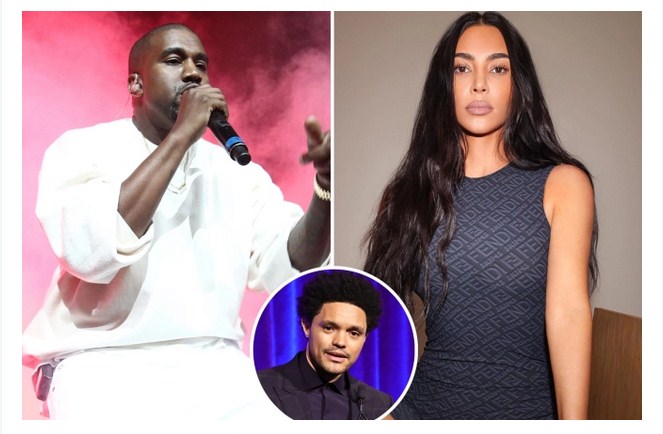 Kanye West has been suspended from performing at this year's Grammys event. The Yeezy founder and Donda rapper were sacked following his protracted online attacks against ex-wife Kim Kardashian, 41, and boyfriend Pete Davidson, 28. The rapper had also taken out his anger on The Daily Show host, Trevor Noah, who spoke out about West's unruly online behavior, The Sun reports.
The Grammys organizers reported putting a call through to West's representatives on Friday to inform him that his show at the event will no longer hold. The callers made it clear that this decision was due to the rapper's "concerning online behavior" to his wife and other people who crossed his paths.
The Grammys is slated to hold on April 3. Other acts that have been confirmed to perform at the event include Billie Eilish, BTS, Lil' Nas X, Olivia Rodrigo, and Jack Harlow among others.
Entertainment analysts opined that the final offense that instigated his removal from the Grammy was West's beef with Noah. The host had expressed strong sentiments that he did not approve of the rapper's sadistic behavior towards his estranged wife and her boyfriend Davidson, whom she began dating in October 2021.
"I'll be honest with you – what I see from the situation is a woman who wants to live her life without being harassed by an ex-boyfriend or an ex-husband or an ex-anything," Noah disclosed. "You may not feel sorry for Kim because she's rich and famous, because she appropriates Black culture…but what she's going through is terrifying to watch and shines a spotlight on what so many women go through when they choose to leave."
West, 44, who prefers to be called Ye now, responded to Noah by hurling a racial slur at him.
Facebook and Instagram banned the rapper temporarily for online social behaviors they said violated their policy on bullying, harassment, and hate speech.
But West is still now slowing down, but forging ahead to claim full custody of his four children with Kim. An insider said he is adamant about acquiring the children and would not be persuaded otherwise.
"Kanye wants to go for full custody of the children," the source said. "People close to him were pretty shocked and have been trying to persuade him not to, but he is adamant that he wants the kids full time. He believes Kim is away a lot, working and spending time with Pete, and that he'd be a better parent."