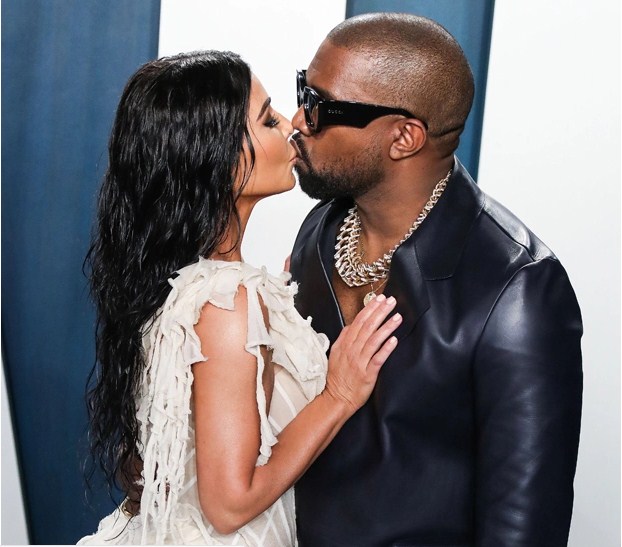 Kanye West, who prefers to be called Ye, has shared a throwback photo of himself and his estranged wife, Kim Kardashian. Kardashian filed a divorce from West in February after seven years of marriage and has recently hooked up with Pete Davidson.
In the throwback photo taken in 2019 during a family vacation in the Bahamas, Kanye and Kim wear tracksuits and the photo was taken against a desert rock background. Both kiss passionately in the picture even though Kim deleted it shortly after posting in 2019, but Kanye obviously kept it for future use.
In a Thanksgiving prayer posted on his social media handles, Kanye blamed himself for his divorce and wished that God would bring him and Kim back again. He said he has failed as a Christian and would be glad to make the necessary amends for the sake of his family.
"Good Lord, my wife did not like me wearing the red [MAGA] hat," he confessed. "Being a good wife, she just wanted to protect me and our family. I made me and our family a target by not aligning with Hollywood's political stance, and that was hard for our marriage."
After their wedding in Italy in 2014, 44-year-old Kanye and 41-year-old Kim went on to have four children – North, 8; Saint, 5; Chicago, 3; Psalm, 2. But after their divorce, Kim has begun to go out with 28-year-old Davidson, and their relationship is the talk of the media. Kanye believes he made mistakes but expressed hopes that God will redeem his broken marriage.
"The narrative God wants is to see that we can be redeemed in all these relationships," Kanye stated. "We've made mistakes. I've made mistakes. I've publicly done things that were not acceptable as a husband, but right now today, for whatever reason — I didn't know I was going to be in front of this mic — but I'm here to change the narrative."
He went on to say that "I am the priest of my home" and that he would not allow E! and Hulu to write the narrative of his family. But Kanye has been linked with Irina Shayk and 22-year-old Vinetria, a model after Kim filed for divorce. "I have to be next to my children as much as possible…I'm doing everything to be right next to the situation."