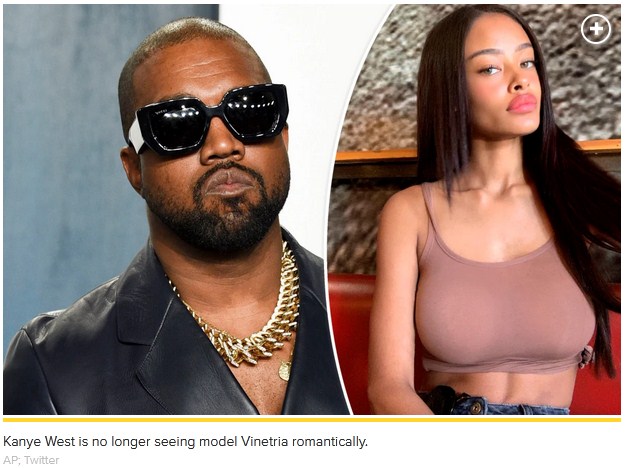 Billionaire businessman and actor Kanye West is reportedly no longer dating model Vinetria. Page Six reports exclusively that West, who now prefers to be addressed as Ye, cut ties with Vinetria in his bid to reunite with estranged wife Kim Kardashian.
Ye has allegedly stopped following Vinetria on Instagram, even though she is still following him. A few insiders said Vinetria cannot compete with Kardashian and does not have her clout. But the severance between the West and the Vinetria is almost quiet and almost unnoticeable. Apart from a few outings together, people may not even realize they dated.
In November, Vinetria attended the Donda Academy debut basketball game in Minneapolis with West, and have been seen together in a few other places.
But during a live performance of one of his songs at a recent concert with Drake, West pleaded with Kardashian to return to him. "I need you to run right back to me, more specifically Kimberly," he begged. Kardashian who founded Skims has not responded to West's pleas but has obviously moved on with a much younger lover, 28-year-old Pete Davidson.
Kardashian has been going on several outings with Davidson, including to restaurant dinners and movie theaters at his native Staten Island home. Early this year, Kardashian filed for divorce from West and just last month filed to be declared legally single again. She sued to have the name "West" dropped from her compound name of Kim Kardashian-West, a legal move that indicated that she has burned the bridge with West.