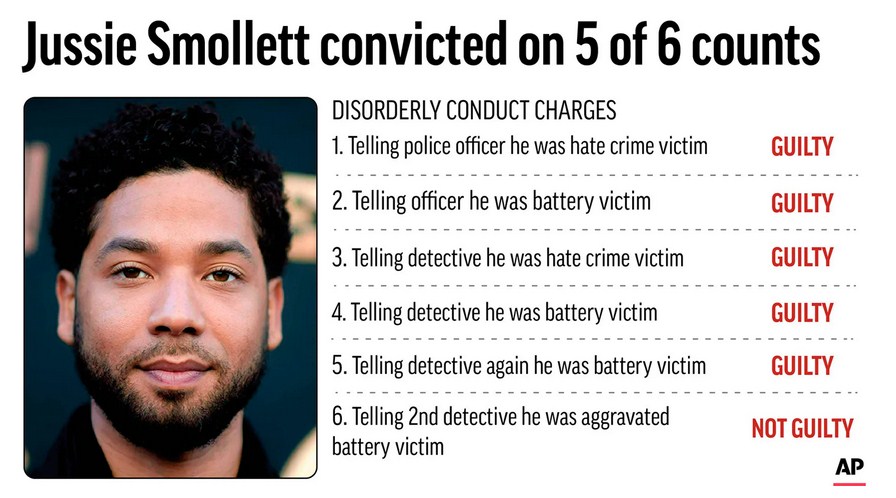 A jury has found "Empire" alumnus actor Jussie Smollett lying to Chicago police that he was attacked by two brothers in 2019 for his sexual orientation and skin color. Smollett claimed to several police officers that he was the victim of a hate crime and this got numerous police officers working to unravel the truth.
Following a two-day trial, a jury found that Smollett had actually lied and that he had staged the hate crime to burn the two brothers – Olabinjo Osundairo and Abimbola Osundairo. Smollett had lied that the brothers attacked him in January 2019 because he was gay and black and that they had poured bleach on him before placing a noose on his neck.
Several investigators pored over the evidence and interrogated numerous eyewitnesses before finding that the actor's testimony and that of his accomplices did not hold. A grand jury indicted him on five out of six charges in February 2020, and he awaits pre-sentencing. When the jury read out their verdict, he stared ahead and remained motionless.
The 39-year-old actor was found guilty of telling a police officer he was the victim of a hate crime; convicted of telling a police officer that he was a battery victim; found to have lied to a detective that he was the victim of a hate crime; told lie to a detective that he was a battery victim, and yet lied to another detective that he was battered. He was not indicted for telling a second detective that he was an aggravated battery victim.
He was accused of having hoaxed Chicago Police Office Muhammed Baig twice, lying to Officer Kimberly Murray twice, and then lie again to Detective Robert Graves all over again. Special prosecutor Dan Webb said Smollett insulted the intelligence of the jury by lying to them again while standing trial and that he must be punished for this.
Webb said "26 Chicago police officers spent 3,000 hours of time, costing the city well over $100,000 for a fake crime that never occurred" to investigate Smollett's claims. He said the actor denigrated real victims of hate crimes and made a mockery of their actual experiences. The city of Chicago fined Smollett $130,106 for the hours that investigators and officers spent working on his fake claims, but he has not paid the money yet.
Attorney Gloria Schmidt Rodriguez represented the Osundairos in court, and she thanked everyone that stood by them to get the victory. Smollett's attorney, Nenye Uche, said he is not satisfied with the decision of the jury and that he will be heading to an appeal court.
"He (Smollett) is 100% confident that this will be reversed on appeal," Uche said. "At the end of the day, we believe justice will prevail. We don't believe it was done today, but we're very confident that he will be cleared, and he will be found to be innocent."