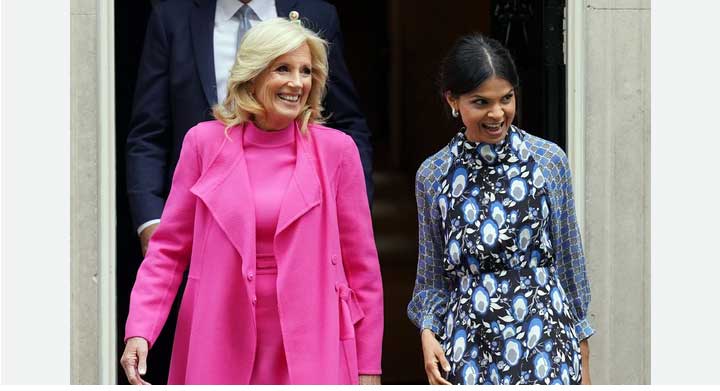 The United States First Lady, Dr. Jill Biden, is already in the United Kingdom for the coronation of King Charles III. Biden left Washington DC on Thursday and touched down in London in the evening in the company of her granddaughter, Finnegan. The First Lady will be in London for three days and she has her itinerary full for the entire coronation events.
According to the White House, Dr. Biden is leading a delegation of US officials to witness the coronation of King Charles and Queen Consort Camilla. The First Lady said before she boarded the plane on Thursday that "it's an honor to represent the United States for this historic moment and celebrate the special relationship between our countries."
President Joe Biden will not be attending the coronation. According to US officials, no American president had ever attended the coronation of a British monarch, and Biden is following that precedence. The president said he had spoken with King Charles over the phone ahead of the coronation and that he might likely visit him in London in July during his tour of Europe.
During the coronation of Queen Elizabeth II in 1953, former President Dwight D. Eisenhower stayed back from attending despite being invited to the ceremony. He said he would watch the proceedings live from the White House. White House press secretary Karine Jean-Pierre said "it is not a snub" for Biden not to attend.
The last time President Biden and his wife were in London was in September 2022 to witness the funeral of Queen Elizabeth II. On Friday, Mrs. Biden met with the wife of the UK prime minister, Akshata Murty, at 10 Downing Street. Both ladies planned to visit the families of veterans for a health and wellness program, as well as the children of a local primary school.
The US First Lady also plans to meet with officials of the US embassy in London. On Saturday evening, Biden will attend a reception put together by the US Ambassador to the UK, Jane Hartley. On Sunday, she will be at 10 Downing Street together with other heads of government to attend a "Coronation Big Lunch" put together by PM Rishi Sunak and his wife.
King Charles' coronation will take place on Saturday at Westminster Abbey and it will be conducted by the Archbishop of Canterbury, Justin Welby. It is projected to be a "solemn religious service as well as an occasion for celebration and pageantry."