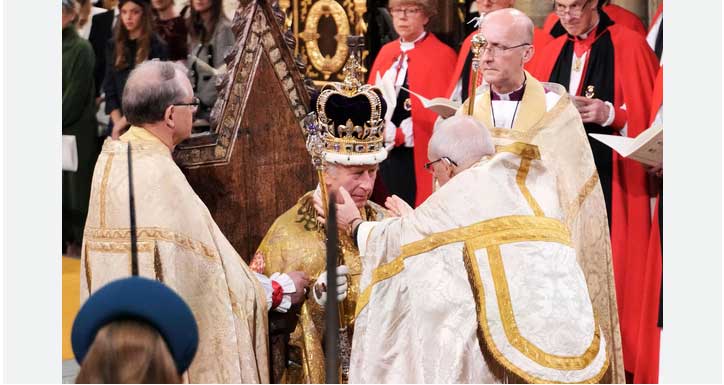 The Archbishop of Canterbury, Justin Welby, crowned King Charles III as the 40th British monarch on Saturday. Charles was crowned with the St. Edward's Crown which is made of solid gold and decked with more than 400 precious stones. He was anointed with original olive oil produced in Mount of Olives in Jerusalem while seated on the 700-year-old Coronation Chair on which ancient Scottish kings were crowned.
The new king was presented with an orb, swords, and scepters as symbols of his power in a ceremony witnessed by US First Lady Jill Biden, French President Emmanuel Macron, Canadian PM Justin Trudeau, eight current and former British prime ministers, judges wearing ceremonial wigs, soldiers with shining medals, and celebrities such as Lionel Richie, Emma Thompson, and Judi Dench among others.
More than 2,000 guests were at the crowning event and millions of people watched live on their TVs around the world. Thousands of troops provided security outside the Buckingham Palace and tens of thousands of people filled the streets to witness the ceremony – some even camped overnight.
The aerobatic team of the Royal Air Force and the Red Arrows performed overhead with plumes of white, red, and blue filling the atmosphere. Heir-apparent Prince William and his wife Kate as well as their three children were at the program, but estranged Prince Harry came late and alone – he left his wife Meghan and children behind in California.
William knelt before the king in homage at the end of the ceremony and kissed him on the cheek. After the ceremony was over, King Charles and Queen Consort Camilla rode in the Gold State Carriage from Westminster Abbey to Buckingham Palace accompanied by a procession of 4,000 troops and military bands playing regal tunes.
Harry did not join this procession; he waited outside the abbey until a car arrived to whisk him away.
Attendees joined the sound of trumpets to shout "God save the king!" within and outside the abbey during the ceremony. The Church of England modified the ancient crowning ceremony a bit to meet the demands of modern times. The king used a Bible to swear that he is a "true Protestant" and Prime Minister Rishi Sunak, a Hindu devotee, read from the King James Bible.
The ceremony was attended by Buddhists, Hindus, Jews, Muslims, and Sikhs while a female clergy took part in the church ceremony. A group of protesters named "Republic" and an environmental group named "Just Stop Oil" shouted "Not My King!" when Archbishop Welby asked the people to pay homage and pledge allegiance to the king. Many of the protesters were arrested by law enforcement.