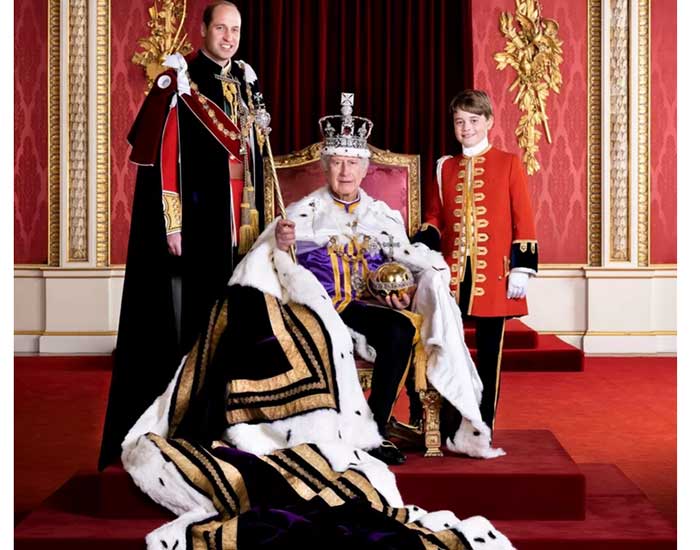 Buckingham Palace has released a new Coronation Day photo in which King Charles II is flanked to his right by his son Prince William and to his left by his grandson Prince George. Taken in the Throne Room, the photo reveals that after King Charles come to Prince Williams and thereafter Prince George – three generations of royal figures.
The photo is captioned "The King with The Prince of Wales and Prince George of Wales in the Throne Room at Buckingham Palace on Coronation Day," and it is expected to find its way to the walls of most public buildings across the United Kingdom.
William, 40, is the firstborn of King Charles and is next in line to the throne, and William's firstborn George, 9, is next in the line of succession to his father. King Charles's second son, Prince Harry cannot ascend the throne and has moved to California, US, but he was present at the king's coronation on Saturday, May 6, 2023.
In the photo taken by Hugo Burnand, the king wears the Imperial State Crown and Robe of Estate while holding the sovereign Orb and Scepter with Cross. In a second photo taken by Burnand, Charles's wife, Queen Camilla, wears Queen Mary's Crown and the Robe of Estate and is flanked by eight Pages of Honor who will serve her and the king in the palace.
The king's four pages are Master Ralph Tollemache, Lord Oliver Cholmondeley, Master Nicholas Barclay, and Prince George; the queen's four are grandsons Master Freddy Parker Bowles, Master Gus Lopes, and Master Louis Lopes as well as grand-nephew Master Arthur Elliot. All eight Pages of Honor are in the second palace photo, including Camilla's sister Annabel Elliot and the Marchioness of Lansdowne.