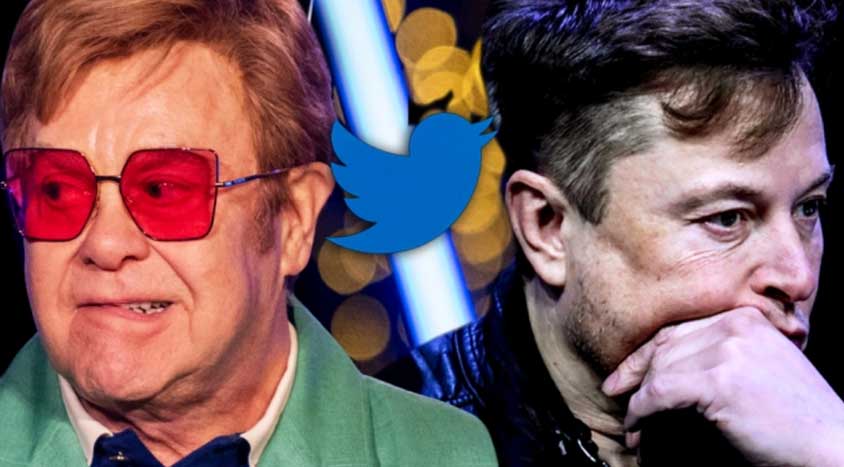 Legendary British musician, Sir Elton John, has dumped Twitter over what he called "misinformation." Sir Elton, who is on his last-ever global tour, said the recent policy change at the social media platform will aid the growth of misinformation on the site. However, Twitter CEO Elon Musk has asked him to come back.
"I've decided to no longer use Twitter, given their recent change in policy which will allow misinformation to flourish unchecked," John wrote on Twitter. "All my life, I've tried to use music to bring people together. Yet, it saddens me to see how misinformation is now being used to divide our world."
Elton is not the only high-profile celebrity to abandon Twitter after it was acquired by Musk for $44 billion. Some of those that have quit the platform over feelings of insecurity include Whoopi Goldberg, Jim Carrey, Shonda Rhimes, David Simon, Jamela Jamil, Trent Reznor, Gigi Hadid, Toni Braxton, Téa Leoni, Jack White, Liz Phair, Stephen Fry, Alex Winter, Ken Olin, and Playbill magazine.
Some of the unrepentant users who spewed antisemitic rants and other divisive posts on the platform include Kanye West and Kyrie Irving, causing Ari Emanuel, LeBron James, and ADL among other personalities to react decisively. Apart from antisemitic rants, fears of spam accounts, hate speech, and the recent retrenchment of workers has forced many users to abandon Twitter.
As if to demonstrate its abandonment of misinformation, Twitter declared a couple of weeks ago that it will no longer combat misinformation about COVID-19. "Effective November 23, 2022, Twitter is no longer enforcing the COVID-19 misleading information policy," the platform stated.
Following Elton's final tweet, Musk and thousands of the 1.1 million fans following Elton on Twitter urged him to reconsider. The Twitter CEO even specifically asked Elton to mention any particular misinformation he came across, with an unspoken assurance to address it.
"I love your music. Hope you come back," wrote Musk. "Is there any misinformation in particular that you're concerned about?"
Musk reinstated the Twitter accounts of former President Donald Trump and Kanye West after it was banned by the former management. But Trump has refused to return to the platform, preferring to stay with his Truth Social platform instead.