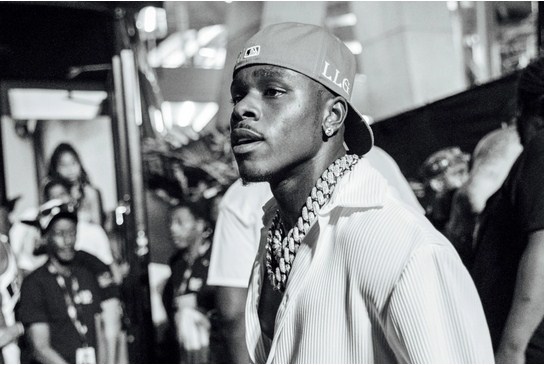 Rapper DaBaby has come under intense backlash for the homophobic comments he made at a Rolling Loud event in Miami on Sunday. The rapper insinuated that people living with HIV/AIDS could die in 2-3 weeks and attempted to isolate people with the disease from those who do not have it at the festival. His remarks have sparked critical reactions from Elton John, Dua Lipa, and GLAAD among others, with record label boohooMan saying they are cutting ties with him.
"If you didn't show up today with HIV, AIDS, or any of the deadly sexually transmitted diseases, that'll make you die in two to three weeks, then put your cellphone lighter up…" DaBaby said in his exuberance. "Fellas, if you ain't sucking dick in the parking lot, put your cellphone lighter up."
Elton John, who runs a charity HIV/AIDS foundation, said DaBaby misfired by his comments since they can rip the industry and entire community apart. He said the comments will further stigmatize marginalized people and spread misinformation about HIV/AIDS. He also noted that a musician should bring people together and not divide them with his utterances and music.
"We've been shocked to read about the HIV misinformation and homophobic statements made at a recent DaBaby show," John stated. "This fuels stigma and discrimination and is the opposite of what our world needs to fight the AIDS epidemic. Homophobic and HIV mistruths have no place in our society and industry; and as musicians, we must spread compassion and love for the most marginalized people in our communities. A musician's job is to bring people together."
John said it is possible to live longer and healthier with proper HIV/AIDS treatments. Dua Lipa, who recently remixed her hit song "Levitating" with DaBaby, said she does not share the rapper's views on the LGBTQ community. GLAAD's associate director of communities of color, DaShawn Usher, also agreed that DaBaby misfired and that people living with HIV can live healthier lives.
"The rhetoric that DaBaby used is inaccurate, hurtful, and harmful to the LGBTQ community and the estimated 1.2 million Americans living with HIV," DaShawn Usher stated. "It is critical that DaBaby and his fans learn that people living with HIV today when on effective treatment, lead long and healthy lives and cannot transmit HIV."
Although DaBaby initially tried to defend himself in the face of the criticisms, he later tried several times to apologize for his comments and win back the love of his fans. "Anybody who done ever been effected (sic) by AIDS/HIV, y'all got the right to be upset, what I said was insensitive even though I have no intentions on offending anybody," he tweeted. "So my apologies."
Source: rollingstone.com