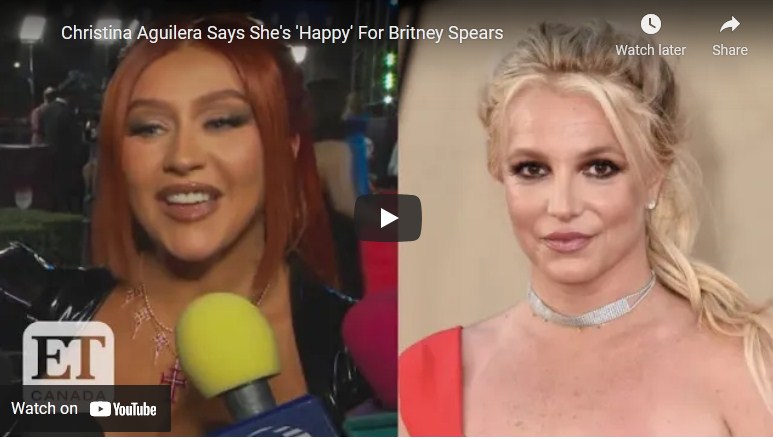 Christina Aguilera was asked on Thursday if she would be celebrating or have communicated with Britney Spears following the end of her 13-year conservatorship. Aguilera hesitated on the red carpet at the 2021 Latin Grammy Awards as if momentarily lost at the question, then her publicist spoke up to say "No, we're not doing that tonight. I'm sorry."
Britney Spears on Friday then called out Aguilera for refusing to speak freely to the direct question. She said refusing to speak the truth is tantamount to telling a lie; she then went ahead to thank everyone who had supported her during the ordeal of her conservatorship. Although Aguilera had still managed to tell reporters that "I'm happy for her," Spears seemed to want something more concrete from her.
"I love and adore everyone who supported me…but refusing to speak when you know the truth, is equivalent to a lie," Spears wrote on Instagram Stories. "13 years being in a corrupt, abusive system yet why it is such a hard topic for people to talk about? I'm the one who went through it! All the supporters who spoke up and supported me, thank you… yes I do matter!"
For nearly 14 years, Spears lost control of her life and property and the court gave her father, Jamie Spears, the right to manage her life and affairs. Following years of legal battle, in which Spears claimed that she was abused, denied sexual freedom and the ability to have children, as well as incapacitated on medical treatments, she finally won her freedom this month when Los Angeles Superior Court Judge Brenda Penny terminated her conservatorship.
"It still blows my mind every day I wake up how my family and the conservatorship were able to do what they did to me," Spears stated on Instagram on November 16. "It was demoralizing and degrading."
However, in June, Aguilera did speak up for Spears. She said "these past few days I've been thinking about Britney and everything she is going through…it is unacceptable that any woman, or human, wanting to be in control of their own destiny might not be allowed to live as they wish." But why Aguilera refused to say anything about Spears' freedom once she gained it remains unknown.
Aguilera and Spears are childhood friends who rose to stardom at nearly the same time. They were both on the cast of The All-New Mickey Mouse Club from 1993 to 1994. They also presented the 2000 MTV Video Music Awards together; and they both performed at the VMAs in 2003 with Madonna.