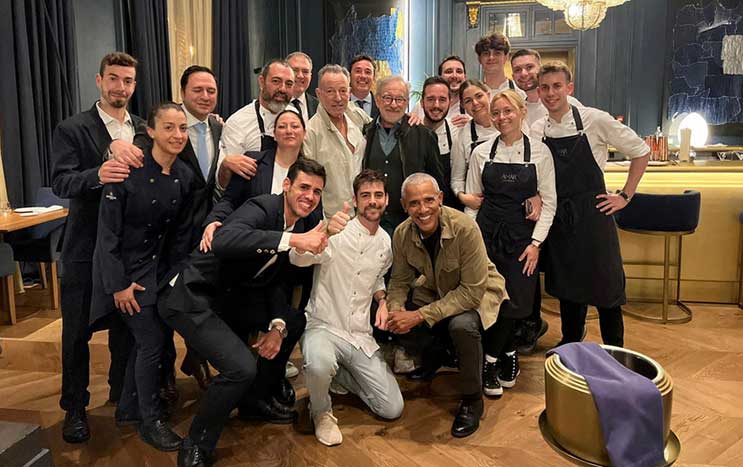 Former US President Barack Obama, Hollywood filmmaker and director Steven Spielberg, and rock music icon Bruce Springsteen walked in unannounced into a Barcelona restaurant on Thursday night, the BBC reports.
Former First Lady Michelle Obama also joined the band to have a meal at the Amar restaurant in the Palace Hotel. Obama and his wife and friends were in Barcelona, Spain, to attend a concert at the Lluis Company's Olympic Stadium where Springsteen was billed to perform on Friday night.
Amar restaurant's Chef Rafa Zafra said he and the entire restaurant staff were caught off-guard when the 44th president of the United States walked into his restaurant. He said Spanish-American celebrity restauranteur Jose Andres had recommended Amar to the former president because of their friendship.
Zafra said Andres had earlier called him to inform him to book a reservation for an important guest. He said he didn't know that Obama and his wife as well as Spielberg were in the city until they walked into his restaurant. He said Andres and Obama were great friends.
"We gave them oysters, shellfish, and fish from Roses, my classic – the caviar bikini – a little bit of everything…and super grateful!" Zafra disclosed.
A staff at Amar, Pol Perello, took the photo of the former president and his friends posing with restaurant staff. He posted the photo on Instagram with the caption "The pleasure this job brings you!"
Guarded by heavy security, Obama and Spielberg and others toured famous places in Barcelona on Friday. They visited the Picasso Museum and the Sagrada Familia Basilica designed by Antoni Gaudi among other fascinating sites. He toured the city hand in hand with Michelle while a throng followed them from behind in awe.
Obama became friends with Springsteen during the presidential campaign tour in 2001 and they hosted a podcast titled "Renegades: Born in the USA" in 2021. The famous musician started his European tour from Barcelona's Olympic Stadium with his E-Street band.