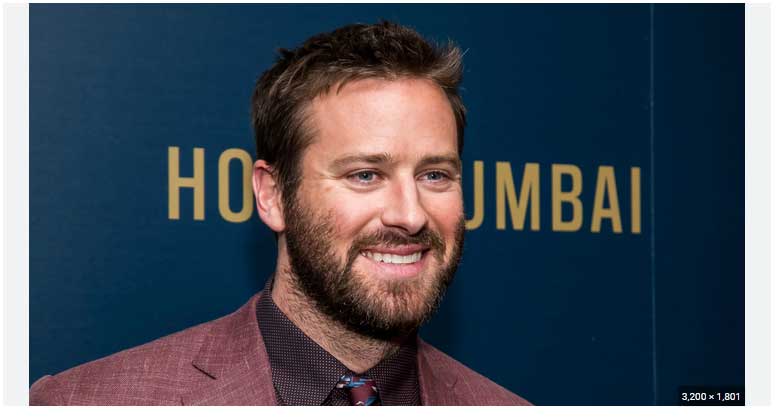 Armie Hammer has finally spoken out on the series of sex scandals that upended his acting career since early 2021. In his first interview since the scandals broke in January 2021 and lit up the internet with the #MeToo hashtag, Hammer confessed that he did have extreme sex with many of his accusers, but not without their consent.
Hammer said his interest in sex stemmed from the need to control situations since he got raped as a child by a youth pastor in his family church. He said the pastor molested him for nearly a year and this ingrained extreme sexual violence into his psyche. He stated that he had no power over it.
"What that did for me was it introduced sexuality into my life in a way that it was completely out of my control. I was powerless in the situation," he confessed. "I had no agency in the situation. My interests then went to: I want to have control in the situation, sexually."
Hammer admitted that his wealth and status as a celebrity made it possible for him to engage in bondage discipline submission/sadism masochism (BDSM) with several women. For perspective, Hammer is the great-grandson of oil tycoon Armand Hammer; he got separated from his wife of 10 years, Elizabeth Chambers, founder of Bird Bakery, in 2020.
He said he had BDSM with many women out of a consensual arrangement, and that he did not force anyone to engage in violence sex with him. While many of the women accused him of sharing fantasies related to sexual violence, rape, and cannibalism with them, the actor said he discussed with the women before engaging in any sexual acts with them.
"Every single thing was discussed beforehand," he stated. "I have never thrust this on someone unexpectedly. Never."
Hammer featured in The Lone Ranger and The Man from U.N.C.L.E in a leading capacity, but he didn't break the box office ceiling like some people would expect. He also took a leading role in Call Me By Your Name and was set for high-profile performances in other lined-up projects before the scandals broke.
He got taken down from Shotgun Wedding where he would have acted opposite Jennifer Lopez and Gaslit where he would have featured against Julia Roberts and Sean Penn. Even when Death on the Nile was released in 2022, he barely got a commercial mention despite his prominent role in the movie. His talent agency, WME, also removed him from their books.
"No one will hire me," Hammer lamented. "No one will insure me. I can't get bonded for a project—nothing. And no one will touch me because if they hire me, then they are the people who support abusers."
At the height of the scandals, the actor said he swam out to sea at his Cayman Islands home with hope of ending it all, but recalled his bonding with his children and then turned back. He checked into a rehab clinic for drug and alcohol abuse and currently tries to help another individual who just left rehab.