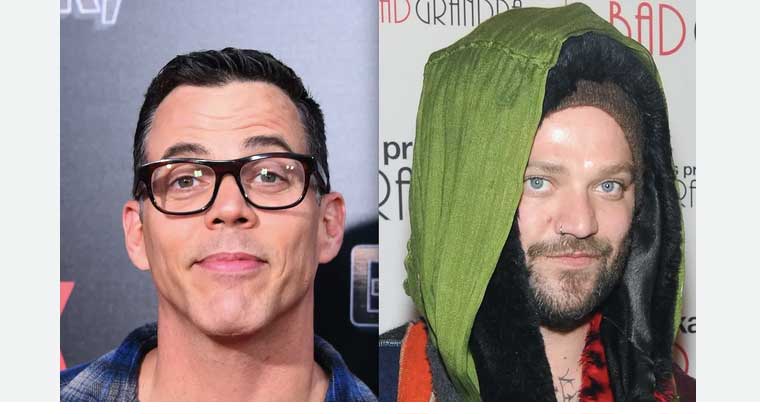 Steve-O is afraid of losing his former Jackass co-star, Bam Margera, to death. Possibly because he couldn't get him to yield in any other way, Steve-O took to Instagram to plead with Margera to choose recovery and stop doing drugs. Margera had been doing drugs for more than a decade, and his problem with alcohol among others got him fired from the Jackass franchise years back.
Margera contracted COVID-19 last year and was placed on a ventilator for several days. He announced on December 8 that he nearly died on the ventilator when he suffered four seizures. He was in the hospital for eight days and told the audience of Steve-O's Wild Ride! the podcast that he bit his tongue during the seizures that it became swollen and barely fit his mouth.
"Did not know that I had gnarly COVID and my body was shutting down," Margera recalled. "I went into four seizures, each one lasting 10 to 20 minutes. And on the fourth one, I bit my tongue so hard it was nearly fallen off. It got so swollen and puffy that it wouldn't fit in my mouth. And I was drinking the infected blood, which gave me pneumonia as well."
On January 31, Steve-O asked Margera to be with him on his comedy tour and the latter came with his 5-year-old son. Steve-O said he had hoped that being on the show with his son would have done Margeta a world of good, but the man relapsed and went back to drugs after the event.
"Bam, last night you had your five-year-old son with you on stage at my show, and you were blessed with the chance to spend another day or two with him — then as soon as you left my show, you stayed up all night getting loaded," Steve-O wrote on Instagram. "You say you want to have a relationship with your son, but your actions guarantee the exact opposite will happen.
"I brought you on tour with me in hopes that I could get you to see what's possible for you if you choose recovery. I've tried everything I can but I can't force you to get honest and do the work of recovery. I wish you could know how much I've hated feeling braced for news of your death, but you're making it clear that I have no other choice. You're dying, brother, and it sucks that I can't do anything to save you."
Margera, a pro skateboarder, shares Phoenix, 5, with their wife Nikki Boyd.