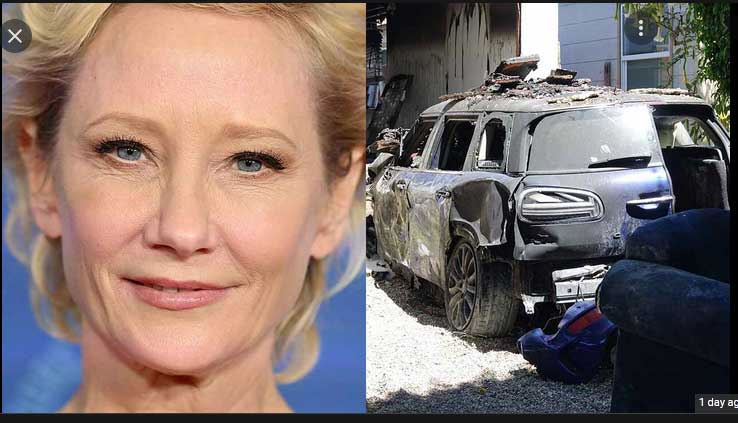 Actress Anne Heche was involved in a fatal accident that left her hospitalized and in critical ICU care. Heche, 53, was driving a blue Mini Cooper and first crashed into a house in Los Angeles before driving off and crashing into a second Mar Vista home, setting the second two-story residence constructed in 1952 on fire, Fox News reports.
The Los Angeles Fire Department (LAFD) said that "59 firefighters took 65 minutes to access, confine and fully extinguish the stubborn flames within the heavily damaged structure and rescued one female adult found within the vehicle who has been taken to an area hospital by LAFD Paramedics in critical condition."
Helicopter footage showed the second house on fire, even though the only female adult at the house was not injured. Although doctors could not immediately determine if Heche was under the influence before the crash, medical personnel struggled to save her life and treat her severe burns. She was lifted from her burnt car and placed on a stretcher before being rushed to the hospital in an ambulance.
TMZ said she was intubated at the ICU of a hospital. A news commentator described the crash and the blazing house as horrific, saying "if there's anyone alive in there, it would be a miracle." A source close to Heche stated that "Anne is in the ICU, she's lucky to be alive. She has severe burns and has a long recovery ahead. Her team and her family are still trying to process what led up to the crash."
Heche featured in the soap opera Another World as twins in 1987, and followed that debut by starring in Donnie Brasco, Six Days Seven Nights, Volcano, Gracie's Choice, and Wag the Dog movies. Her recent film is 13 Minutes where she acted alongside Thora Birch, Will Peltz, and Amy Smart. She divorced her husband James Tupper in January 2018 and the couple has a son, Atlas, 13.
She was romantically involved with Ellen DeGeneres from 1997 to 2000, and she suffered immense public attacks when their relationship became public knowledge. "I didn't do a studio picture for 10 years," she confessed. "I was fired from a $10 million picture deal and did not see the light of day in a studio picture."