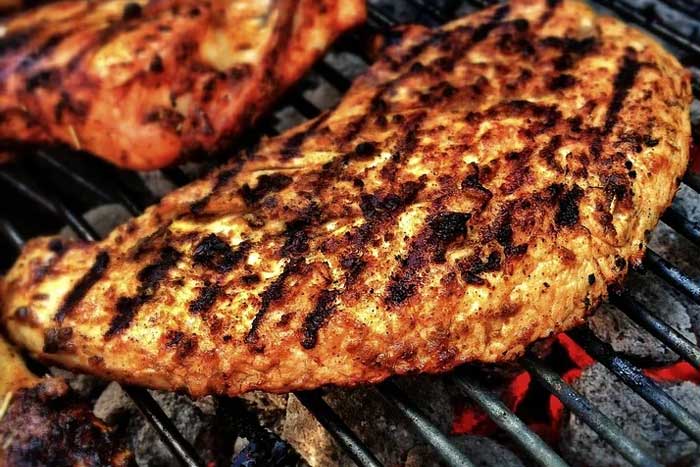 Nothing beats spending time with friends and family over a weekend BBQ. Just picture it. Clear skies, good drinks, great stories, laughs, and of course – a wealthy selection of perfectly smoked and bbq'd meat. Pulling off a good BBQ can be tough unless you've already had years of experience.
If you have a barbeque day set up soon, you need to prepare as early as now even if it's still a few days away. The key to a good day at the grill is preparedness after all. There are a lot of factors that can make or break your barbeque weekend so it's time to pick up your pen and paper to take these important notes down.
Finding The Perfect Grill
If you see yourself having barbeque parties every weekend, then it might be a good idea to invest in a good grill. If this is something that you'll do occasionally, you don't have to get something fancy. The grill stands you can find at your local hardware will be more than enough to get the party started.
A good grill should at least have a non-stick rack so your meat doesn't stick while it's being grilled. You should also make sure that the grill has a cover too. You shouldn't let the aromatic smoke just run out of the grill as this can make your steaks, burgers, and other meats all the more delicious.
Get Your Flame's Blazing
Aside from the grill, you'll have to prepare your fire starters, and your flame's burning with the right stuff. If you're having a ton of guests coming, you need to get the charcoal in bulk to last just to be safe. This is your primary source of flame so you'll need a lot of it for the barbeque.
The charcoal is just one part of it. If you want to add a smokey and aromatic twist to your meats, you should get some wood to burn for the grill as well. Some wood will add a ton of flavor to the meat so it's worth getting them as well. You'd want to mix 50% wood with 50% charcoal for your grill.
Some of the best aromatic woods for barbeque are sweet chestnut, silver birch, hickory, applewood, and English oak. Pro chefs always use wood when barbecuing their meats so make sure that you are doing the same if you want to completely satisfy the noses and the tastebuds of your guests.
Building The Menu
Now it's time for you to worry about the star of the show – the menu! Let's first get started with what everyone is most likely looking forward to – the meat!
If you are looking for steaks to grill, make sure to get prime cuts. True enough, these are more expensive but the payoff is that you'll get meat that's both tender and flavorful as well. Excellent choices for steaks include ribeye, filet mignon, and even beef belly. The key is getting cuts that have a lot of fat. This guarantees that the meat is tender and tasty.
For the rub of the meat, you can never go wrong with a little salt and pepper action. It's simple but it always gets the job done. Alternatively, you can buy barbeque steak rubs instead. These are pre-mixed rubs that include herbs and spices for the perfect flavor for your steak.
Some people prefer marinating their meats. This is a good option as well as it can result in deep flavors for your steak. When marinating, make sure that you marinate it for a few hours. If there's nothing acidic in the marinade, you can put the meat on the steak overnight.
Don't be afraid to expand your menu by adding things other than steak. Burger patties and sausages are good choices too. If you're hoping to add patties to the mix, make sure that you get 30% fat and 70% meat for the patty mixture. This makes sure that your burgers are nice and juicy.
Check with your guests too. If there are vegans who are going to be joining the party, it will be a good idea to add some vegan options to the menu. Plant-based patties are available in stores easily so you can accommodate all of your guests even if they are on a different diet.
Last but not the least, don't ever forget about the side dishes. They are just as important as the meat itself. A selection of salads, pasta, rice, and grilled veggies are going to further expand the flavor profile for the barbeque party. You'd want at least 3-5 side dishes prepared.
If it's all meat that you're going to serve, then your guests are going to be so filled with protein. It's always good to mix things up with new flavors and textures.
Some Drinks To Keep Everyone Cool
Make sure that your guests also have access to a large selection of beverages for the party. Sodas, some beer, and juice for the kids would be great. Keep these cool by storing them in an ice bucket. If you're doing it in the summer, then cold drinks are definitely a must to keep your guests cool.
It would be best to just buy drinks in cans. These are more convenient to hold and they are safer to use as compared to bottles. Moreover, canned drinks can keep their temperature for longer periods.
Utensils, Anyone?
Last but probably most important, ready your utensils. Just head to the grocery and buy disposable cups, plates, and eating utensils. If you're serving messy food like barbequed pork ribs or chicken wings, then get some plastic gloves too so that your guests can eat without making too much of a mess.
Setting up a barbeque party can be tiring but with these tips, you'll have happy visitors in no time. It takes a lot of preparation and practice to keep their stomachs full and your grill working well. If you succeed, your friends and family are going to be urging you to hold another party soon.