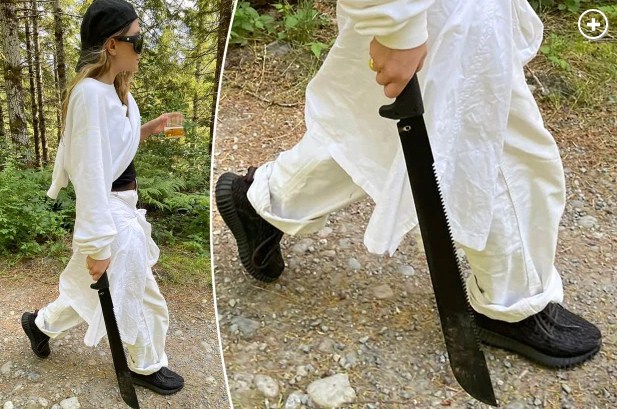 A rare photo of fashion designer Ashley Olsen has emerged online. Shared by boyfriend Louis Eisner, Olsen is photographed plowing through the woods with a machete in one hand and a glass of beverage in the other hand. Although the photo is not captioned, it is believed that the duo went hiking and thought to maximize the moments together.
In the photo, 35-year-old Olsen wears a white sweatshirt and linen pants which are obviously very loose on top of a black T-shirt. She completes the funny outfit with black Yeezy sneakers, a black hat, and oversized dark goggles. The former child movie star seems intent on enjoying her days out in the wild as she holds the black machete in her right hand and a glass of beverage in her left hand.
Eisner, 32, captured himself in another photo standing on a log of wood beside a pond.
Ashley is a twin, and her sister, Mary-Kate Olsen, once said that they were raised to be very discreet people. She said this to underscore the simplicity of their fashion label style, but people have also linked it to Ashley's discreet relationship with Eisner which both have never admitted to publicly even though they had been together since 2017.
Although people want Ashley and Eisner to probably marry since they have been spotted together in New York and other prominent places, Mary-Kate is currently divorced from her husband Olivier Sarkozy after five years of marriage.
Ashley and Mary-Kate run The Row luxury fashion label, and they are estimated to be worth $100 million. Back in April, Jonah Hill and Zoe Kravitz – both actors – mulled the idea of collaborating with the fashion label, but it appears the project remains shelved at the moment.
"We were raised to be discreet people," Mary-Kate said about their modest fashion style. "I think that potentially that's just our aesthetic, our design preference. But that doesn't mean that we don't also appreciate something truly ornate or maximal. Sometimes a collection even starts quite like that and then gets pared down. It doesn't always start from that simplistic place."
Source: pagesix.com