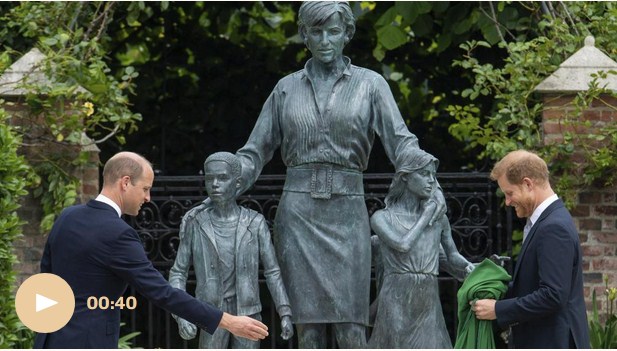 On what would have been her 60th birthday, the statue of Princess Diana of Wales was unveiled. The life-size statue of the Princess of Wales was unveiled by children Prince William and Prince Harry at the Sunken Garden in Kensington Palace, London. The artwork was secretly commissioned by both Harry and William in 2017 and created by reputable artist Ian Rank-Broadley.
Prince William, 39, and brother Harry, 36, came together again since Harry's relocation to California to honor the statue and legacy of their mother. The statue was commissioned to celebrate the birthday of Princess Diana and her humanitarian activities around the world. The huge mother-and-children statue depicts Diana holding two children close to her, with another child in the background.
"Today, on what would have been our mother's 60th birthday, we remember her love, strength, and character – qualities that made her a force for good around the world, changing countless lives for the better," William and Harry said in a joint statement. "Every day, we wish she were still with us, and our hope is that this statue will be seen forever as a symbol of her life and her legacy."
After the brothers unveiled the statue by pulling away from its covering, they stepped back to inspect the giant statue with wonder and reverence. But William's wife, Kate Middleton, who had earlier promised to be at the unveiling, was absent at the last moment. She said she chose to sit back at home to look after her three children and to give her husband and his brother private time with the statue.
"Out of respect for Prince Harry and Prince William, [the royal family] wanted it to be just about Diana's sons and not a huge public affair," a royal source revealed. "Kate was definitely supporting [her husband] William while physically not being there and really wanted to attend, but the family as a whole decided it was best for the kids and her to stay home."
Middleton had revealed that she and her three children will visit to see the statue at a future date. Harry and William had grown steadily apart since Harry and wife Meghan Markle stepped down from royal duties a year ago and moved to the United States. Their relationship had become sourer after Harry and Markle had granted an explosive interview to Oprah Winfrey in March where she revealed some embarrassing family secrets.
The Royal Family had found the interview embarrassing, but Harry had later disclosed that "time heals all things."
Source: foxnews.com