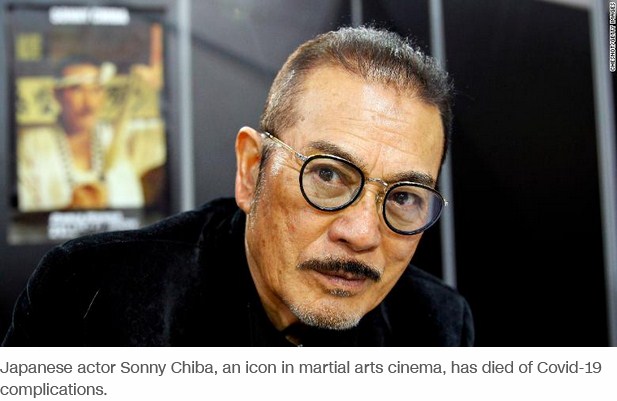 Japanese martial art master and actor of "Kill Bill", Shinichi "Sonny" Chiba has died of COVID-19 at the age of 82. Chiba's spokesman, Timothy Beal, said Chiba died of COVID-19 complications. Chiba was born Sadaho Maeda in Japan on January 22, 1939. He started to learn martial arts in 1957 while studying at Nippon Sport Science University.
Chiba then studied karate under Masutatsu "Mas" Oyama and won the first-degree black belt in 1965. In the late 1970s, was cast for several movies such as "Champion of Death," "Karate Bearfighter" and "Karate for Life," in his native Japan. He also won black belts in ninjutsu, Shorinji Kempo, judo, kendo, and Goju-Ryu karate but went on to win the fourth-degree black belt in karate in 1984.
He started acting professionally in 1960 and that was when he changed his name from Sadaho Maeda to Shin'ichi Chiba. He featured in several Japanese superhero movies such as "Seven Color Mask," "Messenger of Allah," and "Invasion of the Neptune Men" in 1961. In 1973, he acted in the martial arts movie "Karate Kiba" and in "The Street Fighter" in 1974.
His style of martial arts has been compared to that of Bruce Lee, and it has been said to have inspired action actors such as Keanu Reeves.
Chiba also played a prominent role in Quentin Tarantino's "Kill Bill: Volume 1" and in "The Fast and the Furious: Tokyo Drift". Others included "The Bullet Train," "Champion of Death," "The Storm Riders," "Karate Warriors," "Doberman Cop," "Shogun's Samurai," and "G.I. Samurai". He was billed to act with Wesley Snipes and Jesse Ventura in "Outbreak Z" before the COVID-19 pandemic started, and his last movie act is "Bond of Justice: Kizuna" which will be released after his demise.