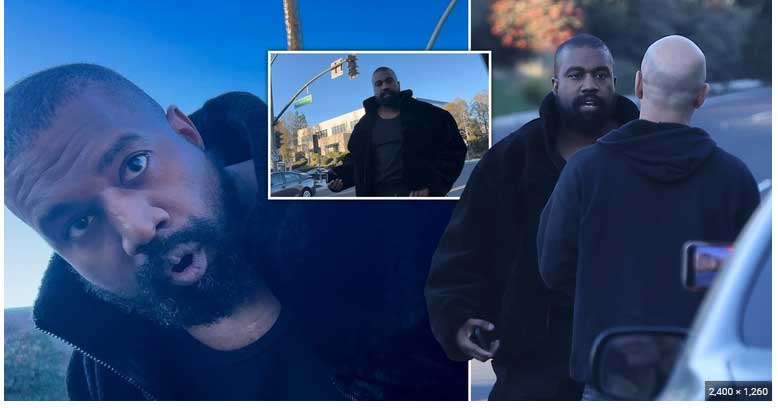 Rapper and entrepreneur Kanye West is currently a suspect in a battery investigation for tossing a woman's smartphone. On Friday in Los Angeles, Kanye had attended the basketball game of his daughter North and was driving away from the scene when he observed that a woman in another car trained her smartphone on him.
Kanye, who prefers to be called Ye, came out of his black Mercedes-Benz and went over to the woman who was seated in the driver's seat of her own vehicle. "You didn't have to run up on me like that," Kanye told the woman. "If I say stop, stop with your cameras!"
When the woman still held up the phone and responded that she had the right to photograph the rapper because he was a "celebrity," Kanye reached out and collected her phone before tossing it away.
His new "wife" Bianca Censori was in his vehicle but she did not come out. It remains unclear if the woman whose smartphone Kanye threw away was a fan or paparazzo, and how long she had been filming him is not known, nor what transpired before the rapper packed his car and went over to her.
But when police officers from the Ventura County Sheriff's Department got to the scene, they spoke to the woman and reviewed video evidence provided by other people who filmed the confrontation. The woman was also seen talking to the police at the sheriff's department. The police thereafter announced that Kanye is a suspect in a battery investigation.
After the businessman tossed the woman's phone and left her car, he confronted another man with a smartphone, and the man quickly backed off. But on getting inside his side, he drove a short distance and then pulled up in front of a group of photographers who filmed his confrontations with the woman and the man.
"You want me to be running up on your kids' games like that?" he told them angrily. "Everybody needs to stop when I see my kids. If I need to see my kids, you can't photograph me. It's called human rights."
One of the photographers responded that they had a right to film him because he was in a public street, and "there's a hundred of us." Kanye glared at the man that spoke and then drove away without another word. His confrontation with the paparazzi occurred a day after he was seen shopping with Bianca at Balenciaga – even though the fashion outlet had severed ties with him following his antisemitic rants on social media.
Although it is rumored that the rapper had a secret wedding with Bianca, former wife Kim Kardashian and her family allegedly said they do not believe that Kanye is legally married to the Australian native since they have not filed for a marriage certificate yet. However, Kanye wears a wedding ring on his finger. He even released a track titled "Censori Overload" in December in a possible reference to Bianca.
"The family isn't taking this as a marriage yet," an insider said. "They don't know what it is. They aren't sure if it is a PR stunt. They are waiting to see if he files for papers. They are nervous because if it's real, she would be in the children's life."